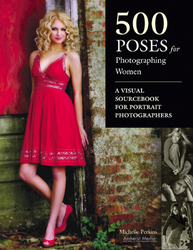 Buffalo, NY (PRWEB) February 28, 2009
500 Poses for Photographing Women
Stuck on what to do with a particular client or unsure how to use a given prop? Flip through the sample portraits, pick something you like, then adapt it as needed to suit your tastes. Looking to freshen up your work with some poses? Find a sample that appeals to you and look for ways to implement it (or some element of it) with one of your subjects.Buy It Here
It can be difficult to remain creative day after day, year after year, but sometimes all you need to break through a slump is a little spark. In this book, you'll find a plethora of images designed to provide just that.
FEATURES:

Inspiring images from top portrait, fashion, and commercial photographers
Head-and-shoulders, three quarter, and full length poses
-Ideas for location and studio portraits
-Poses for both traditional and contemporary portrait styles
Includes images by: Steven Begleiter, Dan Brouillette, Stephen Dantzig, Rick Ferro, Deborah Lynn Ferro, Rolando gomez, Wes Kroninger, Chris Nelson, Billy Pegram, Hernan Rodriguez, Tim Schooler, Jeff Smith, Cherie Steinberg Cote, Vicki Taufer, Marc Weisberg and Jeff & Julia Woods.
###