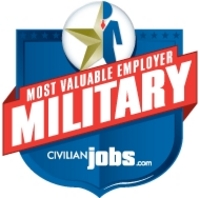 CivilianJobs.com Most Valuable Employers (MVE) for Military - 2009
Atlanta, Georgia (PRWEB) February 22, 2009
CivilianJobs.com, where America's military connects with civilian careers, announced the dates and locations from the Military Job Fairs schedule for spring 2009 today. The company will host five military job fairs in five states on the following dates:
March 13: MCAS Yuma, Yuma, Ariz.
April 14: Fort Lewis, Tacoma, Wash.
April 15: Naval Base Kitsap-Bremerton, Silverdale, Wash.
April 29: Dyess AFB, Abilene, Texas
May 14: Fort Dix, Wrightstown, N.J.
Each military job fair hosted by CivilianJobs.com is free to transitioning military and veteran job seekers. "This spring, we are excited to not only be hosting military job fairs at new bases but we are happy to be returning to Fort Lewis and Fort Dix," said Bill Basnett, Vice President of Operations of CivilianJobs.com. "Each base at which we are hosting a job fair this spring is located in a region populated with highly-skilled job seekers and our clients want to hire from this valuable talent pool."
"CivilianJobs.com Job Fairs are just one avenue for employers to reach military-experienced candidates. In addition to hosting job fairs on military bases, we have an online job board exclusively for veterans and military-experienced candidates that is a very cost-effective tool for reaching candidates in their home and on their military base," added Basnett.
In related news, CivilianJobs.com will help to honor Armed Forces Day by naming the Most Valuable Employers for Military in the May 2009 issue of Civilian Job News. The "CivilianJobs.com Most Valuable Employers (MVE) for Military - 2009" will help military-experienced job seekers identify the top employers to target for civilian careers. MVEs will be selected based on those employers whose 2009 recruiting, training and retention plans best serve military service members and veterans. The company will accept submissions until March 2, 2009. For more information about the MVE program or to get an application, please e-mail MVE@CivilianJobs.com.
About CivilianJobs.com
CivilianJobs.com is where America's military connects with civilian careers. The company offers employers and job seekers access to an online job board, military job fairs, and employer advertising in a world-wide military base newspaper. These services provide employers with the most efficient and cost-effective way to access the ex-military talent pool for candidates with backgrounds in fields such as transportation, maintenance, administrative / finance, healthcare, IT, telecom and law enforcement as well as for positions that require security clearances. CivilianJobs.com, a WBENC-certified diversity supplier, is headquartered in metro-Atlanta, GA, and can be found on the web at http://www.CivilianJobs.com.
About Civilian Job News
Published since 2005, Civilian Job News is a bi-monthly multi-media publication (print / e-mail / web) featuring practical information for job seekers, including resume and interviewing tips, planning and strategy recommendations, company profiles, and advice from transition experts. CJN is distributed to military bases world-wide including via military transition classes, through Military Transition Offices (TAP and ACAP), military hospitals, USO centers and email distribution.
###