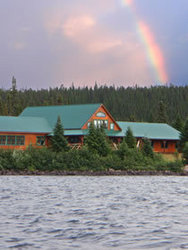 Coming up with a 'new' Anne Marie lodge to please our regulars and first-timers was difficult
Goose Bay, Labrador (PRWEB) February 20, 2009
In building a new world-class fishing lodge to replace their rugged yet much-loved 1960s-era lodge on Labrador's wild Anne Marie Lake, Minipi owners Jack, Lorraine and Robin Cooper faced a far greater challenge than seven-month winters and having to helicopter all their building supplies over from Nova Scotia: they faced the outrage of fly fishermen reluctant to give up the old Anne Marie lodge and almost five decades of tradition … and memories.
After eight years of planning and meticulous construction, the Coopers and their fly-fishing guests agree that the new Anne Marie lodge meets everyone's highest expectations.
Sitting on a peninsula, the new lodge commands a breathtaking view of Labrador's pristine Anne Marie Lake, one of the last places in the world where anglers can still catch trophy-size brook trout -- pike and Artic char -- on dry flies. The new lodge features 7 luxuriously appointed private bedrooms with private baths. The grandly rustic gathering hall where guests swap stories and savor home-cooked feasts features soaring rough-hewn timbers, a roaring fireplace, shining wood floors, and Derek DeYoung's magnificent 4 by 6 foot painting portraying a giant Minipi brook trout.
"Coming up with a 'new' Anne Marie lodge to please our regulars and first-timers was difficult," says Jack Cooper. "The old lodge wasn't fancy, but compared to other places our old-timers had been - Christmas Island, safari tents in Africa, even the trenches of World War II - its warmth, comfort, and indoor plumbing were the height of luxury! All that and great dry fly fishing … what more could you want?"
According to Lorraine Cooper, today's anglers and adventure travelers do want more, including spacious bedrooms and private bathrooms. Lorraine herself wanted more windows: "Given the fantastic view of Anne Marie Lake, the new lodge needed windows - big windows and lots of 'em."
The Coopers and their 'regulars' agreed: a new Anne Marie lodge would have to look out on the lake's legendary fishing waters. It would also have to look ahead to anticipate what new generations of anglers would want. Finally, it would have to reflect the heritage of the original Anne Marie.
"Our history goes back almost half a century," Lorraine notes. "Even the Website's online logbook goes back more than 20 years: scroll down to 1984 and you can see that on July 15th Harvey Smith caught two 7+-pound brook trout on dry flies: Green Drakes. We had to make sure the new lodge would reflect all this history, yet we had to respond to a new generation of men -- and increasingly women -- who enjoy fishing in a wilderness setting, but who also enjoy coming 'home' to fresh-baked bread, high thread-count sheets and a comfy private room!"
The new Anne Marie Lodge is one of 4 Minipi lodges situated deep within in 130 square miles of Labrador's uninhabited wilderness. The Coopers are now taking reservations for the Summer 2009 season and welcome individuals, couples, and family and corporate groups.
###