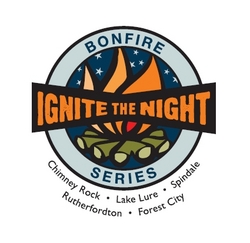 The Last of the Mohicans
Lake Lure, NC (Vocus) February 19, 2009
This weekend, the cure for cabin fever comes to a mountain beach on Lake Lure, bringing oysters, gumbo, live music and a dragon from the lake to light the main fire. It's a picture-worthy evening in an already-picturesque site.
The Beachside Oyster Roast is part of the Ignite the Night bonfire series, which is setting winter on fire in Lake Lure and the Blue Ridge Foothills.
Executive Chef Peter Zamowski brings a taste of the low country to the mountains at Rumbling Bald Resort for an evening of food and entertainment. Gather round the bonfire for freshly roasted oysters - enough buckets for the first 200 - and with all the fixins! Shuckin' tools provided. Gumbo also served.
Trent Hudson and players will be on hand to provide live music - an young ambient electric guitar player whose music goes perfectly against the backdrop of mountains, water, sand, and fire.
To help support the series, hats, t-shirts, stadium blankets and other specialty items bearing the Ignite the Night logo will be available for sale. Cash or Check only.
With different bonfire events on five Saturdays in February, March and early April - surrounded by storytelling, romantic movies, classic cars or the best in bluegrass - weekends will burn brightly all winter long.
Below are the details for the oyster roast (and all of the remaining bonfires) you'll need to get you here. For more information, visit http://www.ignitethenightseries.com or contact Lake Lure and the Blue Ridge Foothills at 800-849-5998 or Rumbling Bald at 800-419-3854.
February 21 - Beachside Oyster Roast Bonfire
Where: Rumbling Bald Resort, 112 Mountains Blvd., Lake Lure, NC 28746
Time: 6- 9 pm
Cost: $15/per person, food included
March 14 - Little Sparks Fun Bonfire
Where: Maple Creek Farm, Rutherfordton, NC
Time: 6:30 pm
Cost: $25/per car, food sold separately
The best of the camping experience comes alive for you and yours with this bonfire! Bring the kids for storytelling from national champion storyteller, author and musician Doug Elliot. Kid-friendly foods will be served as you share an evening under the stars. A fundraiser for the pet shelter.
March 28 - Burning Rubber Bonfire
Where: Bennett Classics Auto Museum, Forest City, NC
Time: 6pm
Cost: $10/adults $4/children, food sold separately
Featured on UNC-TV's NC Weekend, come to Bennett Classics Auto Museum to join other car enthusiasts for an evening of automobiles, fire, and fun. Food and music will shift things into high gear at this bonfire! A museum fundraiser.
April 18 - Blazing Bluegrass Bonfire
Where: Ottis Cook Music Park, Golden Valley, NC
Time: 6:30 pm
Cost: $10/per person, food sold separately
The best of the gospel-bluegrass best! Local legends gather on the stage for a hand-clapping, toe-tapping evening to rival any opry while several bonfires keep the audience warm - and the music park kitchen will be serving dinner. A fundraiser for fire and rescue.
Lake Lure & The Blue Ridge Foothills operates visitors' centers in Forest City and Lake Lure, N.C. The area is home to filming locations for the blockbuster movies "The Last of the Mohicans" and "Dirty Dancing." It is also the site of HGTV's Dream Home 2006.
Contact:
Michelle Whitaker
Communications Manager
Rutherford County Tourism Development Authority (TDA)
1990 U.S. 221 South
Forest City, NC 28043
Office: (800) 849-5998
Cell: (828) 748-0386
Fax: (828) 247-0499
michelle(at)rutherfordtourism.com
###