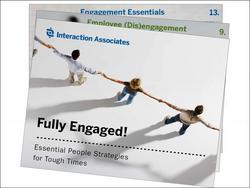 You need all-out effort from employees today, and yet fewer than 1 in 3 employees say they're fully engaged on the job
Cambridge, MA (PRWEB) February 23, 2009
The latest in a popular series of eBooks from leading performance improvement and collaboration firm, Interaction Associates (IA), focuses on how fully engaged employees drive revenue in a tough economy. The eBook shows how to boost employee productivity, and also provides practical strategies for motivating employees through greater employee engagement.
The eBook, titled "Fully Engaged! Essential People Strategies for Tough Times," has just been released by Interaction Associates. It is available for free download at http://www.interactionassociates.com.
"Fully Engaged! makes a strong, data-driven case for employee engagement and how it's critical for driving increased revenue in this economy," said Linda Dunkel, President and CEO of Interaction Associates. "Engaged employees bring their best selves to work every day: they are more passionate, perform better, achieve more, and work smarter than people at companies that don't value employee engagement," added Dunkel.
"Fully Engaged!" takes a solution-oriented approach to the topic of engaging employees, detailing three practical strategies to pursue for a greater level of employee involvement and increased employee productivity. The three strategies focus on creating greater connection between senior management and employees; stressing transparency to genuinely live company values vs. merely talking about them; and adopting a decision-making structure focused on maximum appropriate involvement by employees in decisions.
"Employee engagement doesn't just happen because management says it's important," added Linda Dunkel. "It requires a disciplined approach, but the results are huge: employees who are more involved in the business are engaged at a higher level; they have a higher commitment to their work; they expend greater levels of discretionary effort; and all that drives bigger/better results," said Dunkel.
Fully Engaged! also points to the very real costs of disengaged employees, especially in today's challenging economic climate. "You need all-out effort from employees today, and yet fewer than 1 in 3 employees say they're fully engaged on the job," said Dunkel. Almost 20% of workers in North America claim to be disengaged, according to one study and Gallup statistics put the cost to the U.S. economy of disengagement at roughly $350 billion.
Added Linda Dunkel, "The companies that tap into the power of their people and involve them in decisions that impact the business and their lives - those are the companies that are successful and the ones where everyone wants to work. That's what it's all about for us: getting people fully engaged," she said.
To listen to a podcast about employee engagement strategy based on the eBook Fully Engaged! please go to http://www.interactionassociates.com.
About Interaction Associates:
Interaction Associates (IA) has nearly 40 years' experience in helping companies find breakthrough solutions to business challenges. Fortune 500 companies, government agencies and nonprofit organizations throughout the world have used IA's integrated management consulting and learning and development services. Interaction Associates helps these enterprises set strategic direction, inspire commitment, and build leadership capabilities, leveraging the power of collaborative action for long-term, sustainable results. Learn more at http://interactionassociates.com/.
###