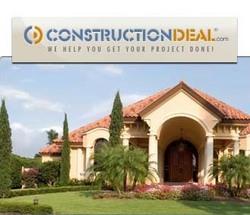 Los Angeles, Calif. (PRWEB) February 18, 2009
On February 17th, 2009, the President signed into law the American Recovery and Reinvestment Act of 2009 and there are helpful provisions included for the American homeowner. ConstructionDeal.com helps homeowners find contractors to complete home improvement projects and they have evaluated the benefits of this new plan.
These tax credits are designed to increase demand for green products, create more American jobs, cut greenhouse gas emissions, and give homeowners more disposable income with lower utility bills. Homeowners will be able to save 30%, up to $1,500, on energy efficient windows, doors, appliances, heating systems or alternative energy products if they are installed within the next two years. The installations must be for the homeowner's primary residence.
Homeowners will need to keep efficiency certifications or Energy Star labels from products they have installed and the receipt for the work from their contractor. The IRS tax form 5695 should be available in late 2009 or early 2010.
All the home improvement products have energy-efficiency requirements. For example, replacement windows must have a u-factor at 0.30 or below and SHGC at 0.30 or below to earn the tax credit. The type of products eligible for these tax credits include, but are not limited to:

Energy Star Appliances
Central Air Conditioning, Heat Pumps, Furnaces & Boilers
Water Heaters
Wind Turbines
Geothermal Heat Pumps
Solar Photovoltaic Panels
The solar energy panels, solar water heating systems, wind turbines, and the geothermal heat pumps are not limited to $1,500 and are good for 30% of the cost.
About Construction Deal, Inc.
Construction Deal, Inc. and ConstructionDeal.com have been helping homeowners and business owners complete their building, remodeling, and repair work since 2004. They have a nationwide network of quality contractors and service professionals waiting to provide quotes on projects. Property owners submit residential or commercial requests at no cost and are matched to local experts, usually within minutes. Property owners receive 4 quotes from professionals for their project. Construction Deal, Inc., a trusted member of the Better Business Bureau, is the fastest growing contractor referral service in the industry.
# # #