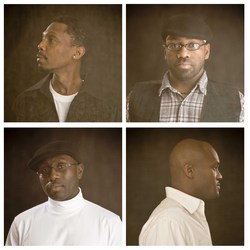 The majority of the music out today has questionable lyrics and we feel people are looking for something new and different
Atlanta, GA (PRWEB) February 20, 2009
Prisonworld Records has introduced and released its first artist, Likely Suspect. Prisonworld Records, which is owned and operated by husband and wife team Rufus and Jenny Triplett, are "Changing the Game" with a record label that focuses on positive messages in an Acapella form of music. The label is a creative spin-off of their magazine for inmates, Prisonworld Magazine which is encompassed under the multimedia company Dawah International, LLC.
Likely Suspect is a family group made up of Rufus, two of his brothers and a cousin. They have been singing together since their childhood days in Flint, Michigan and have years of experience singing and songwriting professionally. Their new CD, The OG Collection, is full of love songs and feel good music with sublime messages that can be enjoyed by all generations. "The majority of the music out today has questionable lyrics and we feel people are looking for something new and different," says Lonell Triplett, oldest member of the group.
The group brings their message music to the incarcerated with the Prisonworld LIVE project. By speaking and performing for at-risk youth in detention centers, drug programs, boys and girls clubs and schools as well as the over 2.3 million incarcerated adults, Likely Suspect has gained a following of their "jailhouse doo wop."
Likely Suspect is based in the Atlanta area and looks to tour several cities in the US and abroad. Their melodic tones and soulful four part harmonies will leave footsteps across the map of the music industry. "We come from a family of entertainers and it is just in our blood," says El-Hajj Triplett, youngest member of the group, when asked of being in their late thirties to early forties.
Prisonworld Records looks to expose other Acapella artists with their radio show. "It is a music genre that is untainted and does not receive the accolades it should compared to the over-hyped, studio generated things you hear on the radio", says Jenny Triplett.
For more information on Prisonworld Records or to book Likely Suspect go to http://www.prisonworldrecords.com.
# # #