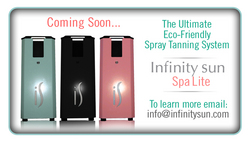 The color is simply amazing.
Los Angeles, CA (PRWEB) February 19, 2009
On February 20 & 21, 2009 Infinity Sun will be officially be launching their long awaited Eco-friendly Spray Tanning machine and Sunless tanning aerosols at two of the most prestigious OSCAR suites hosted by OK magazine and GBK Productions. These events are scheduled to take place at the SLS Hotel in Beverly Hills both days from 11:00 - 7:00. "We are absolutely delighted to have Veronique spray tanning with Infinity Sun in our suite for the OSCARS," said Lisa Burges, Publisher of OK Magazine. "The color is simply amazing."
Infinity Sun, the only Carbon Neutral Sunless Tanning Company, will be providing their signature spray tanning treatments to all the nominees and presenters for the 2009 Academy Awards, delivered via the new Spa Lite™, a portable spray tanning machine that boasts a unique and stylish design, state-of-the-art technology and 100% recyclable "Bag in the Box" solution.
Additionally, the presenters and nominees will be provided one can each of the Infinity Sun's "Glow on the Go™" Eco Friendly Sunless Tanning Aerosol to use to touch up their tans between sessions. This air-propelled aerosol comes in a recyclable can, without the use of propellants or alcohol, rendering it not only kind to the skin, but to the environment as well. Infinity Sun's "Glow on the Go™" is made with essential oils, antioxidants, botanicals and vanilla aromatherapy and leaves the skin with a healthy glow that lasts up to 7 days.
Infinity Sun's Celebrity clientele includes: Brooke Burke, winner of "Dancing With the Stars", Jessica Alba, Giselle Bündchen, Brittany Spears, Paula Abdul, Adrien Grenier, Lindsay Lohan, David Beckham and many more. In addition to being featured prominently on the hit TV show Sunset Tan, Infinity Sun can be seen on Millionaire Matchmaker, Entourage, The Style Network's "Style Scenes", E! Entertainment's Academy awards "48 hour make-over", Dr 90210, and many other TV shows!
"We are so excited to be able to launch our new technologies at such a high profile event where it will be seen and appreciated for many years to come both on and off camera," states Veronique Munro, Founder & CEO of Infinity Sun.
Other great products and services being offered include Milus watches, Dr. Chiu's Beverly Hills Plastic Surgery, Waterford Crystal, Indulgent Escapes holidays, THE SPORTS CLUB/LA membership, Trispecs Stylish sunglasses, Revitalash eyelash conditioner, Barbara Connor Jewelery, K-SWISS shoes, Metropolis high end curling and flat irons, Verve! Energy Drinks, among others.
Details on the event will be covered by OK Magazine http://okmagazine.com/home/ among other media outlets.
GBK (gbkproductions.com), is the premier luxury lifestyle gift suites and special events company.
For more information on Infinity Sun, please visit http://www.infinitysun.com.
# # #