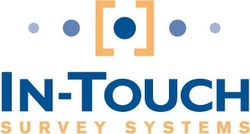 Our partnership with Picture Marketing lets everyone win
Ottawa, Canada (PRWEB) February 20, 2009
In-Touch Survey Systems Ltd. ("In-Touch" TSX-Venture: INX) today announced a strategic partnership with Picture Marketing of Novato, CA, a leading developer of internet marketing applications. The partnership couples Picture Marketing's FotoZap® camera and photo delivery system with In-Touch's sophisticated data capture and analysis services, to create an end-to-end measureable experiential marketing program with data delivered directly to a CRM system for immediate action.
Picture Marketing's flagship product, Picture Marketing In-a-Box™, is a patented and easy-to-use tool for brand ambassadors. The solution enables clients to capture information about the consumer, in exchange for a photo, which delivers insight into consumer buying habits, and provides permission to engage in an ongoing marketing relationship. This provides a truly measurable return-on-investment (ROI) for companies involved in event marketing, with consumer usage tracked and reported in near real-time.
Brands that are seeking increased engagement with their consumers will benefit from the joint solution, which delivers a unique, memorable onsite brand experience to attendees and measureable results to the Brand. Photo-based lead generation provides a simple way to capture CRM data and post-event marketing programs create an ongoing dialogue with consumers. Companies now have the ability to interact with consumers before, during, and after the event, translating into increased one-to-one consumer relationships.
"Our partnership with Picture Marketing lets everyone win," said Lynda Partner, President and COO, In-Touch Survey Systems. "Every brand wants and deserves a unique program, and the scope of the combined In-Touch/Picture Marketing offering is so broad that we have enough tools to create and deliver a program that is customized to every Brand and is consistently measureable."
"This partnership enhances our current offering and provides our clients with the most technologically advanced data collection and reporting services to meet and exceed their event, consumer engagement and marketing goals", said Ron Tonini, CEO, Picture Marketing.
About In-Touch
Founded in 1992, In-Touch provides integrated solutions for market and customer research, custom data capture and mobile marketing for global enterprise customers. Our commitment to customized, measurable solutions for retail, finance, services, automotive and hospitality industries delivers a greater return on investment from corporate marketing and operations budgets. Headquartered in Ottawa, with regional offices in Chicago, Minneapolis and Toronto, In-Touch takes pride in their reputation for leading edge data capture, stellar customer support and advanced professional services. For more information, visit http://www.intouchsurvey.com.
For more information:
Karen McNaughton
Director of Marketing
613-270-7913
The TSX Venture Exchange has not reviewed the foregoing and has neither approved or disapproved the contents of this press release.
###