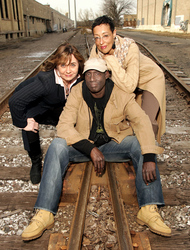 94 East featuring 10:15 & Fortune Teller Remix with Prince on Guitar
Minneapolis, MN (PRWEB) February 21, 2009
A new 12-track album by the Minneapolis band 94 East includes two historical songs featuring Prince on guitar, in addition to ten other fresh, irresistible urban tracks.
The album, entitled "94 East featuring 10:15 & Fortune Teller Remix with Prince on Guitar," showcases a 17-year-old Prince in rare form on the guitar in tracks 10:15 and Fortune Teller. Recorded at the Sound 80 Recording Studios, the songs were respectively written by Pepé Willie, founder of 94 East, and by Hank Cosby, writer of the Stevie Wonder hit My Cherie Amour.
94 East's hot new tracks are flavored with hip-hop grooves, R & B vocals, cross-over musical stylings, and deep, soulful lyrics. As outstanding examples of the Minneapolis sound movement, the tracks show that 94 East is still a force to be reckoned with on the city's musical landscape
"94 East featuring 10:15 & Fortune Teller Remix with Prince on Guitar" will be distributed by Koch Entertainment as part of an exclusive digital distribution deal, and will be available on iTunes and other major digital service providers, as well as at http://www.pepemusic.com. This album release also launches Pepe Music's new label, Reo Deo.
About 94 East:
94 East was formed in the late 1970s by Pepé Willie, who learned the business of music from his uncle, Clarence Collins, a founding member of Little Anthony & The Imperials, which will soon be inducted into the Rock and Roll Hall of Fame. Pepé began working with a teen band, then named Grand Central, which was composed of Prince (Rogers Nelson), Andre' Anderson (Andre Cymone), Morris Day, William Dowdy, and Linda Anderson. While recording his own demo, Pepé hired Prince and Andre Cymone to record tracks on 94 East's classic "demo sessions," and later hired Prince to record on the two featured songs of this CD, 10:15 and Fortune Teller. 94 East was originally introduced in 1985 on Hot Pink Records with an LP entitled "Minneapolis Genius 94 East featuring Prince: The Historical Recordings." For more information, please visit http://www.94eastmpls.com.
###