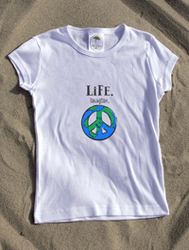 We like to practice what we preach
Cranbury, NJ (PRWEB) February 20, 2009
Tiny Little T-Shirt Co., a lifestyle apparel company based in Cranbury, N.J., makes its Hollywood debut on Sunday. The company's LiFe. t-shirt line was chosen as one of the products to be featured on Oscar night in the celebrity gifting lounge hosted by Billboard Magazine and Children Uniting Nations.
Children Uniting Nations is a pro-active organization created to bring attention to the plight of at-risk and foster children.
"We are thrilled to be included in this special occasion," says company owner Jennifer Laurash. "The Oscars alone are very exciting, but when we learned about the event's connection to Children Uniting Nations, we were on board." The t-shirt company, which was started to give girls and their moms uplifting t-shirt alternatives to what is offered in most retailers today, donates a portion of proceeds of several of their designs to various charitable organizations.
"One of our best-selling shirts says, "Life. Be the change." We like to practice what we preach," says Laurash.
The shirt chosen to be part of the celebrity event is "Life. Imagine.", which features a graphic of the globe in the formation of a peace sign. The shirt, added to the line in December, has quickly become one of the company's best sellers.
Tiny Little T-Shirt products are available at http://www.TinyLittleTshirtCo.com.
###