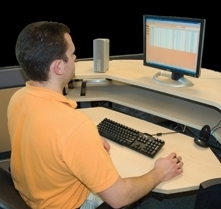 Clipboard software is a touch screen interface software that allows a machine operator to control his job from start to finish at the touch of the screen
Vancouver, WA (PRWEB) February 24, 2009
TigerStop LLC, a leading manufacturer of lineal positioning systems and single piece flow lean manufacturing software, announce the release of Workflow Manager v5.4 and Clipboard v5.7 software. Officially released on January 21, 2009, this offers enhanced solutions to manufacturers of all sizes.
Lineal optimization software has been available for many years but now TigerStop offers a more efficient use of it. With Workflow Manager, cutting patterns from most available software can be downloaded directly to your saw; saving time and eliminating operator error. A type such as push, feed, or pattern can be assigned to each work order individually so they can all be sent to the same TigerStop station. Groups of patterns can be sent to the TigerStop and run together. These can save hours in a day. An entire work order can be optimized by cost of material with confidence that every penny was squeezed out of the material lined up for that job. Real-time reporting by each cut allows to-the-minute visibility of each job. And, multiple jobs can be sent to the network so any TigerStop station can pull it when ready.
"Workflow Manager perfectly optimizes the manufacturing process from the designers program to scheduling the operation to completing the project. It saves hours of time, bins full of waste, and labor expenses," said Chief Software Designer of Precision Automation, Dave Lee.
"Clipboard software is a touch screen interface software that allows a machine operator to control his job from start to finish at the touch of the screen," said Software Developer for Precision Automation, Wes Aday. "TigerStop's latest release offers a comprehensive solution for optimization and shop floor control with a flexible solution that brings multiple benefits to the manufacturer."
Complete with drag and drop capabilities, semi-automatic features, offset and pre-programmed fractional increment buttons, this program is packed with time-saving operator efficiencies! And, if using a bar code system, Clipboard can load an entire work order with just a quick scan of a barcode - talk about saving time and minimizing operator error!
TigerStop software products are designed by Precision Automation of Portland, Oregon exclusively for TigerStop systems. Other software products released over the last few years include Optimization, Visual Optimization, Touch Screen Interface, Laser Defecting, and much more.
For shops that work with defects and office optimization won't work for some materials, TigerStop can download those lists and allow sawyers to cut around defects while optimizing the remaining material. The power of flexibility at your finger tips to meet your real world needs - TigerStop.
# # #