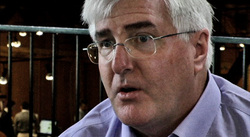 Companies have started to make available applications that run in the cloud so you don't need your application to run on your laptop anymore
San Francisco, CA (PRWEB) February 23, 2009
San Francisco, CA -- Known by some as the "godfather of Silicon Valley," Ron Conway, angel IT investor in early-stage technology start-ups and Special Partner at Baseline Ventures, says cloud computing alters the way we think about computing and transforms the way we use devices, such as mobile. The underlying effect is to create a huge number of opportunities for companies.
A video interview with Conway about cloud computing as a disruptive force is featured on IdeasProject, a new website developed by Nokia. IdeasProject is an online space that provides a new way to interact with thought leaders and their big ideas about the future of connected communications. For more on Conway's idea, visit http://www.ideasproject.com/idea_person.webui?id=201
"Companies have started to make available applications that run in the cloud so you don't need your application to run on your laptop anymore," said Conway. "Now your applications, including storage, can be run in the cloud. The notion that all you need is a computer that has connectivity to a browser has become reality. Now you have a plug-and-play, ready-to-go computer that can be used anywhere."
"Cloud computing is taking the IT world by storm as companies demand for computing power grows," said Valerie Buckingham, director of technology marketing, Nokia. "We're thrilled to feature Ron Conway as part of our circle of big idea contributors. As a long-time angel investor Ron continues to have his finger on the pulse of the rapidly evolving IT industry and, we're proud to feature his insight on IdeasProject."
For the next three months, visitors to ideasproject.com have the opportunity to submit their own Big Idea. Editors will be regularly highlighting their favorite ideas, and sending a Nokia N95 to the Big Thinker who was selected. We'll also be featuring our favorite visitor-contributed Big Ideas along with the ideas of other ideasproject.com contributors.
About Ron Conway
Ron Conway is an American angel investor, based in Silicon Valley. As founder and Managing Partner of the Angel Investors LP funds, he was an early stage investor in Google, Ask Jeeves and PayPal, which was sold to online auctioneers eBay in July 2002 for $1.5bn. Since 2005 he has been investing independently, achieving sixth place in the Forbes Magazine Midas list of top "dealmakers" in 2006. Conway is a Special Partner at Baseline Ventures in partnership with Steve Anderson, David Lee, and Brian Pokorny. Baseline is a San Francisco-based early phase angel investment firm.
About IdeasProject
IdeasProject, a project of Nokia hosted at http://www.ideasproject.com, brings together the most visionary and influential "big thinkers" to contemplate the big ideas that matter most to the future of communications. It is a new kind of conversation platform aimed at uncovering the connections between these thought leaders and their disruptive ideas. Explore the IdeasProject website, subscribe to its RSS feed, join its Twitter feed (IdeasProject), and come back often to learn about great new big ideas as they break.
About Nokia
Nokia is the world leader in mobility, driving the transformation and growth of the converging Internet and communications industries. We make a wide range of mobile devices with services and software that enable people to experience music, navigation, video, television, imaging, games, business mobility and more. Developing and growing our offering of consumer Internet services, as well as our enterprise solutions and software, is a key area of focus. We also provide equipment, solutions and services for communications networks through Nokia Siemens Networks.
###