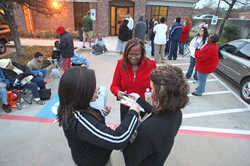 Southlake, TX (PRWEB) February 23, 2009
The first annual Dentistry with a Heart was a huge success. Huckabee Dental saw over 120 patients and performed more than $60,000 in free dental work as part of the Dentistry with a Heart program on Feb. 13, 2009
Six dentists and about 30 other staff members all volunteered their time at the Southlake office.
Patients started camping out at 8:30 p.m. the night before the big day and a steady crowd remained outside throughout the day. The event was for adults who are uninsured or under insured. Dentistry is one of the top things people neglect when they are struggling financially, Dr. Tim Huckabee said.
Dentistry With A Heart happens just one day a year. On the other days, Huckabee Dental is a successful dental practice performing a full range of dental procedures including IV and oral sedation, Invisalign, dental implants, periodontal treatment, and cosmetic and family dentistry. Huckabee Dental is located at 505 West Southlake Boulevard, Southlake, TX.
Fact Sheet About Dentistry With A Heart

Dentistry With A Heart is Huckabee Dental's gift of a free day of dentistry held the Friday before Valentine's Day. It was held from 7:30-4:30 on Friday, February 13, 2009.
The event was started in Detroit and is growing with over 20 practices around the nations holding their own events on the same day. Six practices in northern states are holding the event during warmer months. Huckabee Dental encourages dentists nationwide to partake in their own Dentistry With A Heart event.
Next year's event promises to be bigger than ever. Tentative date for next years event is February 12, 2010. Dentists interested in participating please contact Huckabee Dental. For more information contact Jennifer Shaw at 817-329-4746 or visit http://www.dfwdental.com.
Dr Timothy Huckabee
Dr Timothy Huckabee
###