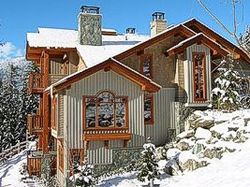 Aloha Whistler has been providing Whistler vacationers with quality services and Whistler's best selection of ski-in ski-out accommodation. We're one of Whistler's oldest and most established property management companies and accommodation providers
Whistler, BC (PRWEB) February 24, 2009
Aloha Whistler Accommodations, celebrating its 30th anniversary this year, is branching out to offer the full spectrum of dwelling options to accommodation seekers in Whistler. With the launch of Whistler Select, the Group will intensify its focus on high-end clients, while the parent company, Aloha, will streamline its business towards value-based accommodation options.
"Aloha Whistler has been providing Whistler vacationers with quality services and Whistler's best selection of ski-in ski-out accommodation. We're one of Whistler's oldest and most established property management companies and accommodation providers," notes Aloha Whistler CEO Joe Weiler. "Whistler Select takes our services and accommodations to the next level. Whistler Select will become the benchmark for the best in Whistler luxury accommodation and services."
Since 1979, the family run company has built a peerless reputation as the premium design, construction and rental agent of signature Whistler properties. Whistler Select will now manage Aloha's finer condos, home and townhomes in Whistler's Upper Village and Taluswood in Whistler Creekside.
Operations manager Gordy Huxtable outlined the benefits and changes that the company restructuring will bring: "Both Aloha and Whistler Select will be run by the same staff and from the same office in Whistler. We have been offering four-star service and properties for some time and the launch of the Whistler Select brand will reflect this dedication to high-end accommodation. We will reach the next level by sourcing individual homes and townhouses of the highest level for our clients, and providing any and all servicing required by them in their private home."
The new subsidiary will be exclusively concentrated luxury ski-in/ski-out and larger rental properties. Whistler Select management expects this exclusive dedication to a limited number of elite properties will provide high revenues and personal attention to owners and their Whistler homes. Meanwhile Aloha will use the company's massive access to Whistler inventory to source value based deals for clients' on a budget.
Whistler Select has launched its Whistler Accommodation website. The website will be a main marketing channel for the new company. Numerous updates will continue to be added to the website over the coming months. The company is currently offering a range of accommodation options from one bedroom condos to seven bedroom 8,000 square feet executive homes for the Winter Olympics in 2010.
###