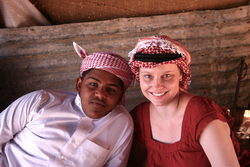 Indiana Jones and the Last Crusade.
New York, NY (PRWEB) February 23, 2009
Beginning February 23rd students worldwide have the opportunity to see the Middle East in a different light with ProjectExplorer's new Jordan Series.
ProjectExplorer's Jordan series features a catalogue of short films that serve as a gateway for students to explore and discuss topics as varied as: archaeology, religion, Middle Eastern cuisine, government and politics, chemistry and physics, and arts and culture. Series highlights include:
Petra: Follow in the footsteps of Indiana Jones! One of the New Wonders of the World, students will recognize Petra's famed Treasury from the film "Indiana Jones and the Last Crusade."
The Science of Dead Sea: Putting a humorous (and practical) spin on science, host Ilana Fayerman demonstrates the formation of the Dead Sea with her chewing gum.
Jerash: History comes to life in the ancient city of Gerasa during a live recreation of Caesar's Roman Legionary as they demonstrate warfare techniques.
Other notable figures and locations featured in the series are: Princess Basma bint Ali of Jordan, Columbia University's Dr. Peter Awn, UNRWA Jabal Hussein Refugee Camp, Wadi Rum, Umm Qais and the Kewar Arab Heritage Collection..
The Jordan series is presented by young, hip hosts Ilana Fayerman and Adam Sewall. Directed and produced by Jenny M Buccos, it is her hope that the Jordan series will become "a springboard for open classroom dialogue on Middle Eastern cultures, religions, and politics. Through our films, we hope to break down stereotypes and misconceptions that many students may have about the region."
Founded in 2003 by Jenny M. Buccos, ProjectExplorer is a nonprofit organization that produces free, online global educational series. Designed for family and classroom use, ProjectExplorer's films and programming cover multiple subject areas while promoting cross-cultural understanding. Buccos states, "In our ever shrinking world, the strength of future communities requires an understanding of global cultures and people."
As Ms. Buccos refers to it, "It's a virtual passport." And this passport is free.
ProjectExplorer.org hosts over 150 films aimed at fostering the next generation of global citizens, helping students discover the common humanity they share with the cultures and histories of the world. Used in over 40 countries, by nearly 1,000, 000 people; kids in London, Los Angeles, Lusaka, and everywhere in between, have logged on to become more globally aware.
Previous programming includes "South Africa" which features Archbishop Desmond Tutu, Dr. John Kani, and Pulitzer-Prize winning photographer Greg Marinovich. In June 2008, ProjectExplorer was featured in O, The Oprah Magazine for its work in South Africa.
To set up interviews with Jenny Buccos or Ilana Fayerman please contact Erin Wilk at 917-605-2955.
###