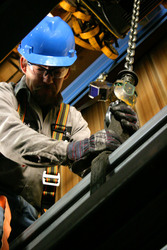 Fishers, NY (PRWEB) February 25, 2009
Gorbel Inc. has added Tether Track™ Rigid Rail Fall Arrest Anchor Systems to their line of overhead material handling products. Tether Track™ systems are a reliable, cost effective way to reduce the risk of worker injury in elevated work environments.
The building block for Gorbel's rigid anchor system is their enclosed track design, which is engineered for easy movement. The cold rolled steel track keeps dirt and dust from settling on the rolling surface, allowing for smoother, more consistent ease of movement than an I-Beam with no need for cleaning or maintenance of the track.
Gorbel's rigid rail Tether Track™ is has several advantages over traditional wire rope anchor systems:

LESS FALL CLEARANCE DISTANCE: Wire rope systems require additional fall clearance distances due to the initial sag of the wire and dynamic sag before the wire rope has enough tension to stop the fall. Gorbel's Tether Track™ stops the fall sooner by eliminating any sag, stopping the fall in a much shorter distance than wire rope.
By eliminating initial and dynamic sag distance, a Tether Track™ system is the best option for fall arrest in low headroom applications. With a shorter overall fall distance than wire rope, less clearance is required from the anchor point to the floor below.

REDUCED RISK OF SECONDARY FALL INJURIES: When a worker falls on a wire rope system, the wire's sag will make the trolley or pulley slide to the center of the nearest two supports, creating a risk for the fallen worker to collide with nearby obstacles as the trolley centers itself. A Tether Track™ system stays rigid, minimizes total fall distance, and doesn't require the trolley to center itself.
LONGER DISTANCES BETWEEN SUPPORTS: A rigid anchor system allows you to cover greater lengths between supports. This reduces both material and installation costs for your system, and also makes installation easier with fewer restrictions for where supports will be located.
SAFER WORK FOR MULTIPLE PEOPLE: When a worker falls on a wire rope system, the sudden pull on the rope can have a jarring effect on other workers on the same system, putting them at risk. Rigid rail systems provide uninterrupted protection for additional workers on the same system without putting them in harm's way. In the event of one worker's fall, the enclosed track will not bend or deflect, allowing additional workers to continue moving freely and safely.
Gorbel offers both Monorail and Bridge systems:
Monorail Systems:

For applications where a worker needs to travel in a straight line, Gorbel monorail Tether Track™ systems offer strength and mobility along a single axis.
Monorails are available in plain, trussed, or dual trussed track
Bridge Systems:

Gorbel bridge Tether Track™ systems provide maximum coverage when a worker's duties require movement along the X and Y axis.
The lightweight, high strength aluminum bridge effortlessly follows as the worker moves within the rectangular coverage area.
Standard Tether Track™ systems are designed to support multiple workers, each weighing up to 310 pounds with tools. Heavier worker systems can also be custom engineered. Our rigid rail anchor systems are designed by qualified engineers to exceed the OSHA 1926 Subpart M Construction standard as well as ANSI Z359 Fall Protection Code.
Gorbel: A Class Above®
Since 1977, Gorbel has been dedicated to providing high-quality overhead material handling solutions backed by a commitment to on-time delivery, a focus on customer service, and the industry's best warranty.
Contact:
Susan Griepsma, Marketing Coordinator
Gorbel Inc.
(585) 924-6733
http://www.gorbel.com
###