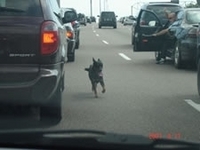 We find each of these items to be safe, effective and worth the money
Albany, NY (Vocus) February 24, 2009
Three products now receive the Canine Kingdom seal of approval. Canine Kingdom.com is a Web site devoted to helping dog parents solve common behavior problems using tried-and-tested products and expert advice.
The three products to receive recognition:

Kong: The Kong toy first evolved out of frustration about a former police dog that couldn't be deterred from chewing rocks. 33 years later a host of Kong products exist, taking beloved companion dogs from puppy hood to senior and providing hours of entertainment.
Roameo: Extensive evaluation with other lost dog products resulted in Canine Kingdom's endorsement of Roameo, primarily on accuracy and ease of use. A GPS system tracks direction, speed and location of a lost animal and can be used to keep track of up to three dogs. Video may be seen on the Canine Kingdom site. View Roameo.
Coyote Roller: A roller bar affixed to traditional chain link fence keeps dogs in and predators out by not allowing animals to get traction in either direction. A true pet safe dog fence.
"We find each of these items to be safe, effective and worth the money," says Canine Kingdom founder Mary Beth Close. "Too often products made for dogs can be injurious. Oprah Winfrey is among the best informed and conscientious of dog parents, and yet even her Golden Retriever, Gracie, choked to death on a toy."
"We know that dog parents can be inundated with the number of dog safety products on the market. There are no governmental regulations to prevent products such as rawhides and shock collars that can cause injury and even death."
In giving the Canine Kingdom Seal of Approval, Close and her team of researchers evaluate, vet, and independently test products, and offer support in using products properly to ensure maximum effectiveness.
"We are passionate about being advocates for the dog parent. We gladly invest the time and provide the expertise to separate the best products from those that need to be avoided."
Close, who has a degree in animal husbandry as well as two advanced degrees, has devoted her life to helping dogs. Early in her career, she ran an animal shelter in upstate New York, and has since spent much of her time collaborating with CEOs in developing strategies for their companies.
"It is no accident that the initial three products to get the Canine Kingdom endorsement are those that support a pet parent in leaving a dog home alone safely. No issue is more constant in a dog parent's mind, and employers are keying into this. Just as employees are more productive when they know that their children are receiving good day care, employees are far more productive when they know that their dogs are being enriched by their home alone experiences."
Close has authored several ebooks, including "Creating a Better Life for the Home Alone Dog," available free of charge on http://www.caninekingdom.com. Products and current research are also available on the site.
###