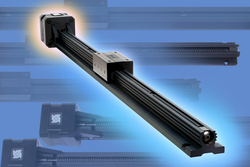 Waterbury, CT (PRWEB) February 24, 2009
HaydonKerk Motion Solutions™, a premier manufacturer of linear motion products, offers the MotoRGS™ motorized Linear Slide assembly. The MotoRGS incorporates the Kerk® Rapid Guide Screw (RGS®) linear slide and the Haydon™ size 17 hybrid Stepper Motor based Linear Actuator, providing a single source optimized solution. The HaydonKerk MotoRGS combines both Kerk and Haydon technology in a single unit that provides exceptional linear speed, accurate positioning, and a high linear force to size ratio resulting in a compact, value-priced assembly.
Kerk RGS Linear Slides from HaydonKerk feature standard wear-compensating, anti-backlash driven carriages to insure repeatable and accurate positioning. All moving surfaces include Kerkite® high performance polymers running on either Kerkote® or Black Ice™ TFE coatings, providing a strong, stable platform for a variety of linear motion applications.

Offers exceptional linear speed, accurate positioning, and long life in a compact, value-priced assembly
Featuring a compact profile, Kerk RGS Linear Slides provide exceptional torsional stiffness and stability for its size and weight. The integral mounting base offers support over the entire length, with a wide range of available leads, offering superior positioning accuracy, repeatability and axial stiffness compared with belts and pulleys.
The Haydon size 17 Stepper Motor based Linear Actuator is a compact design exhibiting a high torque to size ratio and features optional flying leads or an integrated connector. The Haydon size 17 Stepper Motor is also available in both a single stack and double stack variety depending on performance needs.
By utilizing a patented enlarged rotor with low inductance coils, the Stepper Motors provide superior torque and continuous, reliable high performance
The MotoRGS will come preassembled with the size 17 Stepper Motor with the RGS04, RGS06 and RGW06 Linear Slides. By combining components and preassembling the unit, HaydonKerk is able to reduce risk, increase safety, and improve integration for the OEM or end user. The overall cost for the customer is also lowered by offering a complete solution as it eliminates the need for rotary to linear motion conversion, as well as simplifies product development with fewer components utilized.
Applications for the MotoRGS from HaydonKerk include material transport for packaging and assembly, sample delivery for life science, compact syringe drive dispensing, slicing, cutting, and various other applications.
About HaydonKerk Motion Solutions
HaydonKerk Motion Solutions is the joining of two world class brands in the field of linear motion; Haydon™ and Kerk®. Together, the company now offers a broad range of precision linear motion products. Recognized as a leading manufacturer of stepper motor based linear actuators, rotary motors, lead screw assemblies, and linear rail and guide systems used in niche market applications, HaydonKerk Motion Solutions offers high performance with its range of reliable, precise designs. HaydonKerk Motion Solutions has developed industry-renowned brands built upon its technical innovation, versatility, customization, product durability, and dedicated customer service. For more information, please visit our website at http://www.haydonkerk.com.
###