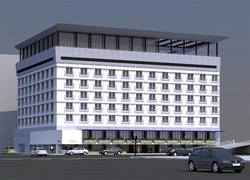 Brooklyn, NY (PRWEB) February 25, 2009
Long Beach, NY -- Access Hotels & Resorts will open the new luxury beachfront property, Allegria Hotel & Spa, on the south shore of Long Island come April 2009. Tapped by Allegria's hotel developer, Allen Rosenberg, for their extensive knowledge of hospitality marketing and corporate hotel management, Access Hotels & Resorts has earned a reputation as an innovator in managing, marketing, and developing distinctive lodging destinations. Led by industry experts Tom Baker, Barry Caplan and Mark Lahood, Access focuses on relentless, hands-on execution to continually provide maximum hotel exposure and meet the needs and objectives of property owners.
Offering stunning views of the Atlantic Ocean and Manhattan skyline, Allegria Hotel & Spa will include 112 stylish guestrooms, 31 luxurious suites, a restaurant and lounge, ballroom for 200, three meeting rooms, a fitness center and a roof-top spa and infinity-edge pool. Less than 30 miles from Manhattan, the hotel will be the ideal location for mid-week business/corporate retreats, close-to-home family vacations, weekend luxury escapes and destination weddings.
Access Hotels and Resorts is an approved operator by Starwood Hotels and Resorts, Intercontinental Hotel Group, and Small Luxury Hotels. With a proven track record and dedicated mission statement, Access has garnered nationwide success with a diverse portfolio of exceptional properties. Each hotel has uniquely redefined its location, offering the ultimate in guest services and luxury. Access Hotels & Resorts will apply equal commitment to the Allegria Hotel & Spa, creating an urban oasis for a myriad of distinguished travelers.
For more information on Access Hotels & Resorts, please visit http://www.accesshospitality.com. For more details on Allegria Hotel & Spa, call toll-free 1-888-ON-BEACH (662-3224) or visit http://www.AllegriaHotel.com.
About Allegria Hotel & Spa
Located less than 30 miles from Manhattan, Allegria Hotel & Spa is a beachfront luxury hotel scheduled to open in April 2009. Accommodations will include 112 guestrooms and 31 luxurious suites, a rooftop pool and spa by Joseph Christopher, inventive American cuisine by Todd Jacobs and state-of-the-art meeting space. Also a short drive from New Jersey, Connecticut and Pennsylvania, the hotel will be ideal for mid-week business/corporate retreats, close-to-home family vacations, weekend luxury escapes and destination weddings. Allegria Hotel & Spa is a member of Small Luxury Hotels of the World and is managed by Access Hotels & Resorts. For more information please visit http://www.allegriahotel.com, http://www.slh.com , http://www.accesshospitality.com
###