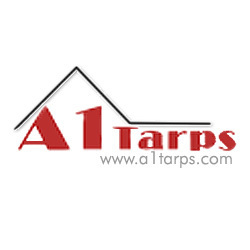 Los Angeles (PRWEB) February 24, 2009
Roofing is a costly, time-consuming, and labor-intensive project. Sure, it needs to be done, but when consumers are pinching pennies and looking to cut costs, finding temporary solutions for expensive construction jobs can save money while still providing sufficient protection. Heavy-duty polyethylene tarps, for example, are an option. A durable, heavy-duty polyethylene tarp can be used to provide sturdy, temporary protection to a leaky or slightly damaged roof. Often tarps are used as temporary fixes for roofs that are damaged in hurricanes, tornados, and other natural disasters until an insurance estimate can be done and plans for full roofing can be achieved. While the fix is only temporary, it provides the homeowner with sufficient protection so they stay warm and dry while saving money for a professional roofing job.
Any contractor or roofing specialist will tell a potential client not to wait and that a damaged roof needs to be fixed ASAP. In an economic recession, many homeowners don't have the luxury of spending thousands of dollars on a professional roofing job. Instead, cost-conscious homeowners look for alternatives that will provide a temporary fix until more funds can be appropriated to a complete construction project.
A large, durable polyethylene roofing tarp is a great choice for providing patchwork solutions to leaky roofs and slightly damaged shingles. If only a small portion of a roof is damaged, a well-placed polyethylene tarp can be a cost-effective stop-gap fix to keep out water, snow, and other weather hazards. A high-quality tarp for temporary roofing should be waterproof, UV resistant, and resistant to mildew, rot, and tears.
Tarps are also useful items to have on hand for patching roofs damaged by fire. Insurance agents may take time to assess the damage to a roof, and, in the meantime, applying a durable, three-ply polyethylene tarp to the damaged area and securing it properly will give the roof a solid-though-temporary solution to foul weather and cold.
With many homeowners defaulting on mortgage payments, using retirement savings to cover the costs of living, and scratching to survive in the current economic recession, the need for alternative solutions is becoming more popular and necessary. Tarps and polyethylene tarps aren't a scam or a masking tape fix. Durable polyethylene tarps are practical, affordable, and useful for providing temporary cover for leaking and slightly damaged roofs until a professional roofing job can be budgeted.
A1 Tarps offers a safe and secure web site that is scanned regularly using state of the art technology and features many heavy-duty, high-quality tarps and tarp accessories to perform basic roofing repairs. A1 Tarps has over 25 years of experience in the manufacturing of tarps, tents, and canopies. A1Tarps SEO is provided by Keyword Performance, LLC.
###