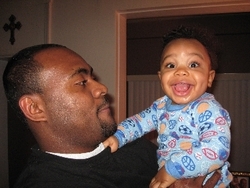 We love this online photo contest because it's a chance for family participation and for us to see sweet pictures of dads and their kids
New York, NY (PRWEB) February 24, 2009
Parents.com today invited readers to enter photos and pictures of dad and his kid into its Cutest Daddy Contest. To enter the online photo contest, sign in at http://www.parents.com/photos/photo-contests-1/cutest-dad/ and upload your cute daddy and kid pictures.
"We love this online photo contest because it's a chance for family participation and for us to see sweet pictures of dads and their kids," said Dan Hickey, Vice President of Digital Content for Parents.com. "Each household can enter up to six photos -- one gallery -- of dad and his kid, up to age 16, and the winner will receive a Canon PowerShot 8.0MP Digital ELPH Camera."
The Cutest Daddy Contest is accepting submissions now and ends April 10, 2009. The winner selection process will begin with the selection of 20 finalists. Entries will be judged, in almost equal parts, on overall appearance of the subject, adherence to the cutest daddy theme and the quality of photo. Photos should be no more than 3 MB in .jpeg or .bmp format.
The photos will be posted on http://www.parents.com where, between April 17, 2009 and May 4, 2009, the public will be invited to vote for their favorite finalist photo. The final winner will be notified on or about June 4, 2009.
For official contest rules, go to: http://www.parents.com/parents/file.jsp?item=/marketing/contests/Share_My_Contests/Official_Rules/Cutest_Daddy&temp=yesl
About Parents.com
Parents.com is the premier parenthood site on the Web, and the interactive companion to Parents magazine, Family Circle magazine, and American Baby magazine. With its stable of easy-to-use, helpful tools like the baby name finder, the growing belly tool, the activity finder, and the Birthday party planning tool, Parents.com serves moms and dads, providing everything every parent needs to raise happy, healthy families from crib to college - how, when and where they need it.
###