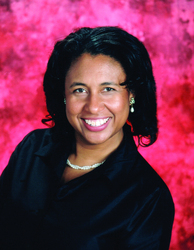 New York, NY (PRWEB) February 24, 2009
Gain a new understanding of the role of Black media in lives of African Americans by listening in on the Public Relations Society of America's (PRSA) series of free podcasts, "PRSA Diversity Today." Produced in partnership with WebmasterRadio.FM, the podcast is a monthly series that reinforces the importance of diversity in today's business and society.
Joining the series as the new host, Dr. Rochelle Larkin Ford, APR, is an award-winning scholar who also has published work on diversity and public relations pedagogy. Dr. Ford is an associate professor at Howard University, where she teaches public relations and serves as associate dean for research and academic affairs coordinator. She writes the column "Diversity Dimensions" for Public Relations Tactics. Dr. Ford has spoken at several national conferences, and is winner of the 2008 D. Parke Gibson Multiculturalism Award. She received a Master of Arts from the University of Maryland and a Ph.D. from Southern Illinois University at Carbondale.
Guests for the Feb. 24 podcast include: Hazel Edney Trice, editor-in-chief National Newspapers Publishers Association news service and Blackpressusa.com; Neil Foote, president of Foote Communications; and Maiya Hollie, public relations director, REACH Media Inc./The Tom Joyner Morning Show.
Show topics include:

Understanding the African American market better.
Gaining loyalty of Black consumers.
Building partnerships with grass roots organizations.
Gaining notice within Black media.
To listen to the Feb. 24 podcast, visit PRSA Diversity Today (http://www.prsa.org/diversity/communications.html). The show also will be hosted on WebmasterRadio.FM on the PRSA Conference Channel (http://www2.webmasterradio.fm/public-relation-society-america-conference/). Subscribe to the show via an RSS feed or through iTunes, where you also can download the podcasts. At the iTunes Store, search for "PRSA," and shows will be listed by date.
About WebmasterRadio.FM:
WebmasterRadio.FM lifts the "veiled curtain" of the Internet, bringing the business community together through an interactive radio network. Its listeners are a global group, comprised of everyone from corporate executives and decision makers to small and mid-sized businesses and individual entrepreneurs. WebmasterRadio.FM's stellar line-up of radio programming includes "CoverStory" with Jiyan Wei of PRWeb, WebmasterRadio.FM's official newswire; "The Hook with Katie Kempner" with Katie Kempner, vice president of Crispin Porter + Bogusky; "SEM Synergy" with Search Engine Marketing Industry Leader Bruce Clay and more. To tune into WebmasterRadio.FM's live content or check out the show lineup, please visit http://www.WebmasterRadio.FM.
About the Public Relations Society of America (PRSA):
The Public Relations Society of America (http://www.prsa.org), headquartered in New York City, is the world's largest organization for public relations professionals with nearly 32,000 professional and student members. PRSA is organized into 109 Chapters and 10 Districts nationwide, and 20 Professional Interest Sections and Affinity Groups, which represent business and industry, counseling firms, independent practitioners, military, government, associations, hospitals, schools, professional services firms and nonprofit organizations. The Public Relations Student Society of America (PRSSA) has 299 Chapters at colleges and universities throughout the United States, and one Chapter in Argentina.
WebmasterRadio.FM Contact:
Brandy Shapiro-Babin
(954) 736-4171
PRSA Contact:
Diane Gomez
diane.gomez (at) prsa (dot) org
(212) 460-1437
###