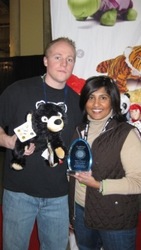 We are thrilled to receive this award
New York (Vocus) February 25, 2009
Little Jet Set, the online retailer of specialty travel products for kids, has been named "Retailer of the Year 2008" by Zoobies, the manufacturer of the multi-award winning Zoobie Pets. On February 15, 2009, during a breakfast and presentation at the American International Toy Fair at the Jacob Javits Center, Ryan Treft, Vice President of Marketing of Zoobies, announced the award and acknowledged Little Jet Set "for excellence in sales, spokesmanship and Zoobie love."
Zoobie Pets are an innovative 3-in-1 pillow, blanket and plush animal, making them the perfect travel companion for young children. The Zoo and Jungle collections include such colorful characters as Jafaru the Giraffe, Lencho the Lion, Hada the Hippo, Ellema the Elephant, Gogo the Gorilla, Mashaka the Monkey, and Ping the Panda, among several other animals from around the world. For 2009, Zoobies will be introducing the Bug Collection, which will include Bing the Bubble Bee, Sada the Snail, and Lily the Ladybug, as well as the Wildlife Collection consisting of Bubba the Black Bear, Boone the Buffalo and Mudd the Moose.
Since launching at Toy Fair in 2007, Zoobie Pets have garnered over a dozen awards, have grown to over 1400 US stores (higher end boutiques and toy stores) and are distributed in over 40 countries. "For the Retailer of the Year Award, we looked at sales numbers, but also the retailers' branding and marketing efforts. Little Jet Set stood out in all three areas," stated Treft. "In addition, Little Jet Set's travel-related site serves the perfect niche market for Zoobies as we like to think of them as the perfect travel item. Little Jet Set is the go-to place for kid's travel items." Treft also credited Little Jet Set for its effective PR and marketing efforts.
"We are thrilled to receive this award," stated Hana Wolf, CEO of Little Jet Set. "It recognizes our commitment to marketing and selling Zoobie Pets, and to providing our customers with the most innovative kids' travel products on the market. We love everything about Zoobie Pets, from the design, to the quality, and, of course, the functionality. It's very satisfying to have our efforts acknowledged and to receive this award."
About Little Jet Set
Little Jet Set was co-founded by a pair of seasoned attorneys turned expert "mom travelers" who decided to take a break from practicing law to launch LittleJetSet.com, a one-stop shopping destination for everything parents need to make traveling with kids easy and fun. Co-Founders Hana Wolf and Nisha Cordero offer solutions to the inherent challenges of traveling with young children and provide parents with a wide selection of thoughtfully designed and well-constructed products that appeal to various ages and interests and that respond to the travel needs of today's families.
Based on the premise that children will be happier travelers if they are occupied and comfortable, Little Jet Set offers over 600 travel products for kids including games, puzzles and toys with bug, dinosaur, sports, princess, pirate and other popular themes; travel and adventure storybooks and activity books; self-contained craft kits and activity sets; travel blanket and pillow sets; airplane tray table organizers; and plush travel companions. To carry it all, Little Jet Set offers an extensive line of kids' luggage, backpacks, duffel bags, car organizers, and totes. The website also includes a family travel blog, "We're Not There Yet" and a "Useful Links" page where parents can access travel articles and resources, including packing lists, travel alerts, documentation information for traveling abroad, and more.
###