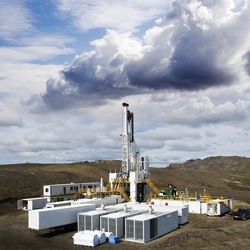 We will implement the SIS products in an initial phase, and then consider extending the relationship to include our entire group of rigs in Iceland, and elsewhere. This is a larger and more sophisticated system than we have used previously, and matches our needs
Oslo, Norway (Vocus) February 25, 2009
Star Information Systems (SIS), the integrated ship, rig and fleet management software provider, has won a major contract with Jarðboranir hf., an Icelandic company that drills for geothermal energy in Iceland and Europe. Jarðboranir purchased SIS's Star Planned Maintenance System, Star Asset Management and Star Document after a broad search and in-depth study of the SIS products.
"We looked all over the market, assembled a list of five products and, after a thorough examination of these products, we selected SIS. SIS was simply the best system for our needs," said Jarðboranir's IT manager, Ragnheiður Jónasdóttir. "The key factors that we focused on were ease of use, integration to other systems like Microsoft Dynamics Ax and the ability to connect drawings and other documents."
Jarðboranir began its search for a new planned maintenance system early in 2008. The IT manager led a small team, including three rig mechanics and one person from inventory, that assessed many of the systems available on the market. They pre-selected five suppliers, and visited each of them, and a customer of each. By mid-2008, the team had selected SIS. In December, Jarðboranir formally decided to invest.
"We will implement the SIS products in an initial phase, and then consider extending the relationship to include our entire group of rigs in Iceland, and elsewhere. This is a larger and more sophisticated system than we have used previously, and matches our needs," said Jónasdóttir.
"This, our first customer in geothermal drilling, further demonstrates the suitability of our systems for professional industrial operators. We are excited to support a company that is searching for new, low-emissions sources of energy in Europe," said Martin Karlstad, SIS Sales Director.
Jarðboranir is a leading technology company in the field of high temperature geothermal drilling and has many decades of experience in high and low temperature drilling. Jarðboranir has grown significantly in recent years and is now the largest geothermal drilling company in the world. Significant investments in machinery in recent years have positioned Jarðboranir to increase their activities abroad. The company possesses a fleet of new hydraulic rigs and modern drilling equipment that can be transferred swiftly from one part of the world to another. Jarðboranir operates internationally and, with a record of over 1000 geothermal wells, the company has well-grounded expertise in international drilling.
About SIS
Star Information Systems AS (SIS) is one of the leading suppliers of professional fleet management software and related services for the maritime and offshore industries. SIS' comprehensive software package comprises solutions for maintenance, spares, asset management, purchasing, yard work, electronic commerce, quality assurance, and insurance. SIS provides support through offices and agents in Norway, Denmark, Singapore, Brazil, Canada, UK and Holland.
For more information, please visit our web-site: http://www.sismarine.com.
Star Information Systems AS
Martin Karlstad
Sales Director
Stortorvet 5
0155 Oslo, Norway
Tel: +47 22476910
Fax: +47 22476919
Web: http://www.sismarine.com
Email: martin.karlstad(at)sismarine.com
###