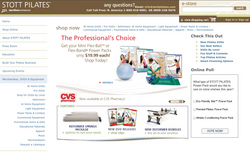 We look forward to welcoming visitors to www.stottpilates.com and meeting all their Pilates-related needs.
(Vocus) February 25, 2009
Toronto -- With many people resolving to make health and fitness a priority for 2009, STOTT PILATES has announced its top-selling Pilates DVDs of the past year. Of the 120+ titles in its award-winning DVD library, the top sellers in 2008 were:
STOTT PILATES Consumer DVD titles:
1. Firm & Fit
2. Basic Pilates, 2nd Ed.
3. The Secret to Flat Abs
4. Sculpt & Tone
5. Fitness Circle Challenge
STOTT PILATES Professional DVD titles:
1. Intermediate Matwork, 3rd Ed.
2. Essential Matwork, 3rd Ed.
3. Intermediate Reformer, 2nd Ed.
4. Essential Reformer, 2nd Ed.
5. Foam Roller Challenge
According to the Sporting Goods Manufacturers Association, more than 10.7 million people in North America participate in some form of Pilates, a form of non-impact exercise designed to lengthen, strengthen and balance the body with an emphasis on core strength. Done on a mat or on specialized equipment, Pilates is suitable for all ages, fitness levels and life stages and is a favorite exercise activity of celebrities and professional athletes alike.
All STOTT PILATES DVDs and fitness accessories can be purchased online at STOTT PILATES' newly-enhanced web store at http://www.store.stottpilates.com. Offering online shoppers a single, convenient source for all their fitness-related gift purchases, the new and improved STOTT PILATES web store features short clips of many of its popular DVD titles, enabling purchasers to feel more confident about their selections.
"We want to make it easy for customers to make smart purchasing decisions. With our new web store, we are offering online shoppers a much-improved experience with an easy-to-navigate interface, enhanced product descriptions, and the opportunity to have a sneak peek at our DVD programming before they make their purchase," says Lindsay G. Merrithew, President and CEO of STOTT PILATES and the company's co-founder. "We look forward to welcoming visitors to http://www.stottpilates.com and meeting all their Pilates-related needs."
Features of Improved Online Experience:

New look and easier navigation
Access to exciting monthly promotions and discounts
Short, exclusive clips of the world's top Pilates DVDs
Convenient shopping cart options for easy, problem-free purchasing
In-depth product descriptions and photos
Ability to manage accounts & pay open invoices online
Ability to view complete order history including package tracking
Preferred pricing for fitness professionals
Easy access to experienced customer care representatives
Newly introduced contests, games & ecards
About STOTT PILATES
STOTT PILATES, a subsidiary of the Merrithew Corporation, is a full-service organization that provides high-caliber Pilates education, equipment and media worldwide. Founded in Toronto in 1988 by Lindsay G. Merrithew and Moira Merrithew, the company's mission is to promote the benefits of mind-body fitness across the globe. STOTT PILATES has trained over 21,000 instructors in 94 countries, has three Corporate Training Centers, numerous hosting locations, and more than 50 Licensed Training Centers worldwide. http://www.stottpilates.com
media contact:
Kerrie Lee Brown
Vice President, Communications
1-800-910-0001 x306
416-482-4050 X 306
###