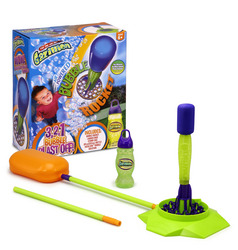 Van Nuys, CA (PRWEB) February 25, 2009
Funrise Toy Corporation is proud to announce that our Gazillion® Bubble Rocket has been honored as a recipient of a "2009 Best Products" iParenting Media Award! This award reinforces our commitment to creating the best and most respected bubble brand on the market today, the One and Only, Gazillion Bubbles. The Gazillion Bubble Rocket is the newest addition to our successful line of bubble products and is available at all major retailers. The bubble rocket set includes a cool rocket, launcher, stomp pad and 8 oz. of Gazillion solution for continuous rocket fueled action. Watch a Gazillion Bubbles soar into the air with this amazing Gazillion Bubble Rocket! Using Gazillion Bubble solution, place the rocket on the launcher, and with your stomping power launch the bubble rocket for a bubble trail of sky high fun! No batteries required.
Funrise has elevated the world of bubbles with the award winning One and Only Gazillion® Bubbles, an effervescent line of bubble toys bursting with a one-of-a-kind bubble solution and great bubble blowing accessories. For the past three years, Gazillion Bubbles has been the #1 bubble solution in the Nation per NPD. The success behind Gazillion Bubbles is its 'top secret' solution that enables the bubbles to float higher, longer and reflect light around them. The result? Gazillions of colorful bubbles - more bubbles than any other solution on the market. Every bottle of Gazillion Bubbles solution provides hours of enchanting, colorful bubble play! Kids will love blowing Gazillion Bubbles and parents will too since the non-toxic bubble solution won't stain their clothing or the furniture. Have even more fun with the Gazillion Bubble Rocket by entering the Ultimate Gazillion Bubbles Photo Contest
Gazillion Bubbles solution is not only safe, non-toxic and earth friendly but it comes in recyclable bottles too! Gazillion Bubbles helping our earth live another Gazillion years!
About Funrise
Founded in 1987, Funrise is an adventurous innovator of superior toys and an industry leader in the manufacturing and distribution of the most popular children's toys. Simply put…we create fun! Funrise's core property portfolio includes Gazillion® Bubbles, Shelcore®, Nylint®, HEADBANGERS®, Home Arcade, Tub Town® and Play 'n Pretty® with leading licensed power brands such as Tonka®, Disney© and Disney Princess©, Sesame Street© and more, making our product offerings diverse and full of fun for kids of all ages! Funrise Toy Corporation is owned by Matrix Holdings Limited. Funrise U.S. headquarters are located in Van Nuys, CA, with offices in Farmington, MN, Hong Kong, United Kingdom, France and Canada, and with additional showrooms in Dallas, TX, Bentonville, AR and Nuremberg. Funrise is operated by Arnie Rubin, Vice Chairman of Matrix and President and CEO of Funrise who also serves as Chairman of the Toy Industry Foundation (T.I.F.) and past Chair of the Toy Industry Association (T.I.A.). Funrise's success results from its commitment to quality manufacturing, progressive marketing and a values-based corporate culture.
###