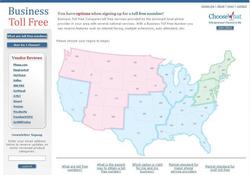 One of the coolest things about the website is the interactive map, which lets people click on the state they live in and see their local service provider's toll free number offering and compare it with the other service options for toll free numbers
Austin, TX (Vocus) February 25, 2009
Business people know that being accessible to consumers is integral to the success of their business. Needless to say, toll free numbers are a big part of that accessibility. Toll free numbers aren't what they used to be—they're better. There is now a wide array of options available to businesses looking to add a toll free number, ranging from numbers from major service providers like AT&T and Verizon to other less expensive, equally reliable, and feature rich service options.
Business-Toll-Free.pbxcompare.com not only explains the benefits of having a toll free number and the pros and cons of each service option, but it also provides a breakdown of service features and straightforward reviews of each company. The website also states the advantages and disadvantages of the "virtual" toll free services, so that users can make an informed decision about whether to choose a virtual toll free number or to opt for a major service provider instead.
Through the website, business owners and consumers who are searching for an 800 number (or 888, 877, or 866 number) can look over their options, make a decision quickly and sign up for a service directly. While it would have usually taken hours of valuable time to find, research and sign up for a new toll free number, business people can now quickly and easily visit one website to obtain necessary information.
"One of the coolest things about the website is the interactive map, which lets people click on the state they live in and see their local service provider's toll free number offering and compare it with the other service options for toll free numbers," says Business-Toll-Free.pbxcompare.com co-creator April Coburn.
Business-Toll-Free.pbxcompare.com is a natural extension of PBXCompare.com, the leading review and comparison site for hosted phone systems like Virtual PBX, Phone.com, and RingCentral. Please visit PBXCompare.com to read reviews and draw comparisons among the top hosted phone service providers.
For more information on toll free numbers or for comparisons and reviews of the providers, please visit http://www.Business-Toll-Free.pbxcompare.com.
###