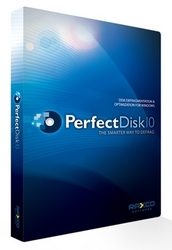 The PerfectDisk 10 Enterprise Console's new reporting and integration with leading technologies such as VMware Virtual Infrastructure Management and Microsoft System Center Operations Manager 2007 make it a key component of system administrator's management systems
Gaithersburg, MD (Vocus) February 24, 2009
Raxco Software, the industry leader in virtualization defragmentation software, today announced the release of the PerfectDisk® 10 Enterprise Console for total management of enterprise computers, servers and virtual environments. The enhanced console management system contains new features to give system administrators more customization and control of disk defrag efforts across an enterprise, including virtual environments.
Enhancements included with the PerfectDisk 10 Enterprise Console include:

New virtualization reports show fragmentation issues across a virtual environment.
New integration with VMware® Virtual Infrastructure Management allows VMware ESX Server-based datacenters to enhance their automation through a single point of management for their ESX-based and vCenter- managed Windows® guests.
New integration with Microsoft® System Center Operations Manager 2007, allowing administrators to access fragmentation statistics and alerts and warnings from the SCOM 2007 console, providing a single point of management for their managed Windows environment.
New configuration management and reporting that allows administrators to create and assign configuration profiles and report on configurations used.
New Smart Reports provide a dynamic combination of reportable and pie charts.
Now bundled with SQL Server Express Edition for improved performance and scalability.
"The PerfectDisk 10 Enterprise Console's new reporting and integration with leading technologies such as VMware Virtual Infrastructure Management and Microsoft System Center Operations Manager 2007 make it a key component of system administrator's management systems," said Greg Hayes, manager of technical solutions at Raxco Software. "In these resource-constrained times, the ability to manage everything from a single point is critical to save time and resources, and the new management console now delivers more than ever."
The PerfectDisk 10 Enterprise Console is available immediately at http://www.perfectdisk.com and is priced at $199.99.
About Raxco Software
Raxco Software has been the industry leader in helping large enterprises, small businesses, and consumers with their computer resource management needs for over 30 years. Its PerfectDisk 10 is Certified by Microsoft® for Vista, Windows Server® 2008 and Hyper-V. PerfectDisk products have a long history of winning the industry's highest awards, most notably its perfect 5-star review from CNET Download, winner of the Windows IT Pro Readers' Choice Awards for Defragmentation Utility and Storage Management Tools, Redmond Magazine's Best of the Best Award, and PC Magazine's Editors' Choice Award. Raxco also produces optimization software, for HP's OpenVMS operating system. Raxco Software can be found on the Web at http://www.perfectdisk.com.
Contacts:
Sherry Murray
Raxco Software, Inc
301-519-7836
smurray(at)perfectdisk.com
###