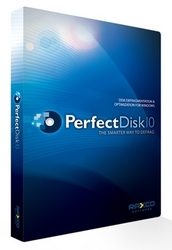 As organizations continue to implement more virtualization solutions to keep costs and energy use down, the PerfectDisk 10 Virtual Enterprise Edition is a critical piece of the virtualization puzzle
Gaithersburg, MD (Vocus) February 24, 2009
Raxco Software, the leader in disk and virtualization defragmentation software, today announced the release of the PerfectDisk® 10 Virtual Enterprise Edition for virtual environments using VMware ESX Server and Microsoft's Hyper-V or other Windows®-based physical hosts. The PerfectDisk 10 Virtual Enterprise Edition is the world's only disk defrag utility with Virtual Awareness to ensure optimal performance in virtual environments. Licensing also includes the PerfectDisk 10 Enterprise Console, providing enterprises with a fully integrated management system for their virtual environments.
The Virtual Enterprise Edition utilizes new patent-pending technology that is virtually aware of its environment. Other disk defragmenters available in the market today are unable to distinguish that they are in a virtual environment, resulting in scenarios where a virtual guest will consume resources from the host that are critical to another guest's potentially critical activity. This resource contention can easily lead to a severe degradation in performance for the critical guest. With the PerfectDisk 10 Virtual Enterprise Edition, PerfectDisk is able to determine when it is in a virtual environment and adjust defragmentation accordingly to eliminate performance-debilitating resource contention.
"The PerfectDisk 10 Virtual Enterprise Edition's virtual-awareness capability is a great advancement and makes defragmentation truly valuable and a no-brainer in virtual environments," said Russ Howard, Systems/Programmer III at the University of Pittsburgh. "Raxco Software has improved an already top-notch product."
"As organizations continue to implement more virtualization solutions to keep costs and energy use down, the PerfectDisk 10 Virtual Enterprise Edition is a critical piece of the virtualization puzzle," said Bob Nolan, president and CEO of Raxco Software. "With this component of the PerfectDisk 10 line, enterprises can be assured that they are maximizing performance in these environments without wasting valuable resources."
The PerfectDisk 10 Virtual Enterprise Edition is available immediately at http://www.perfectdisk.com.
About Raxco Software
Raxco Software has been the industry leader in helping large enterprises, small businesses, and consumers with their computer resource management needs for over 30 years. Its PerfectDisk 10 is Certified by Microsoft® for Vista, Windows Server® 2008 and Hyper-V. PerfectDisk products have a long history of winning the industry's highest awards, most notably its perfect 5-star review from CNET Download, winner of the Windows IT Pro Readers' Choice Awards for Defragmentation Utility and Storage Management Tools, Redmond Magazine's Best of the Best Award, and PC Magazine's Editors' Choice Award. Raxco also produces optimization software, for HP's OpenVMS operating system. Raxco Software can be found on the Web at http://www.perfectdisk.com.
Contacts:
Sherry Murray
Raxco Software, Inc
301-519-7836
smurray(at)perfectdisk.com
###