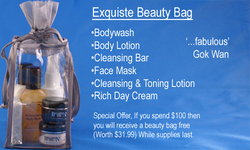 Kissimmee, FL (PRWEB) February 26, 2009
The Balaton Spa Collection, an established line of natural spa products that has been successful in the United Kingdom for over 40 years, is now being offered in the United States for the very first time.
This collection includes natural ingredients and age-old treatments that have proven to be effective for spa customers worldwide, and Balaton Spa is the only company offering these products exclusively at an affordable price compared to similar products currently on the market.
Since 1967, Balaton Spa and its products have been incredibly successful in Europe, boasting celebrity endorsements from style gurus Trinny and Susannah, and they have been featured on popular fashion and style television series, such as How to Look Good Naked, and 60-Minute Makeover. Balaton's extensive experience has led them to develop The Balaton Spa Collection - a fusion of Italian style and flair, blended with centuries of European spa culture.
Balaton Spa has based their Spa Collection on unique, therapeutic lowland moor and moor water, and they include natural ingredients in each of their products throughout the line, such as eye gels and lotions, face masks and replenishing creams, body washes and hand washes, and bath liquids and herbal drinks.
This nutrient-rich moorland peat and moorland water is solely made up of hundreds of herbs, plants, organic substances, trace elements and minerals, which have remained active because they have never dried out since they were formed 20,000 years ago. This unique gift from nature is the secret and main ingredient of The Balaton Spa Collection and contains 331 natural ingredients.
The Balaton Spa Collection has never before been available for purchase in the United States. This is the first time that this internationally-renowned line of spa products from the last 40 years is being offered in this country.
For more information on The Balaton Spa Collection and how to purchase it, please call 321-284-3981 or visit Balaton Spa USA
###