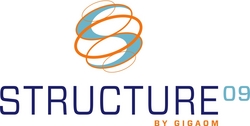 Along with GigaOM Lead Writer Stacey Higginbotham, Program Chair Surj Patel, and the conference program committee, I am bringing together what I intend to be one of the most authoritative programs for the cloud computing and Internet infrastructure space. We will funnel the energy we are seeing from Silicon Valley in this space and mix in a global perspective for our audience.
San Francisco, CA (PRWEB) February 25, 2009
The GigaOM Network today announces its second Structure conference after the runaway success of the 2008 event. The Structure 09 conference returns to San Francisco, California, on June 25th, 2009.
Structure 09 is a conference designed to explore the next generations of Internet infrastructure. Over a year ago, The GigaOM Network Founder Om Malik saw that the platforms on which we have done business for over a decade were starting to provide diminishing returns, and smart money was seeking new options. Web businesses were seeing unprecedented growth, and in an effort to meet the demands of their customers, those companies were forced to spend billions of dollars on servers, switches and components that taken together, form "infrastructure." Innovative businesses have married these needs to service-oriented business models to provide computing on an as-needed basis to create the emerging "Infrastructure On Demand" or "Cloud Computing" space.
Structure 09 looks at the changing needs and rapid growth in the sector, and this year's event will consider the impact of the global economy. "I cannot remember a time when a new technology had so much relevance to our industry as cloud computing does in the current economic climate," said The GigaOM Network Founder Om Malik. "We all need to find ways to leverage what we have and cut costs without compromising future options. Infrastructure On Demand and Cloud Computing are very strong avenues for doing so and we will look for what practicable advice we can bring to our audience."
"Structure 08 was a great experience for our audience and partners, and I am very pleased to be bringing it back again this year," said Malik. "Along with GigaOM Lead Writer Stacey Higginbotham, Program Chair Surj Patel, and the conference program committee, I am bringing together what I intend to be one of the most authoritative programs for the cloud computing and Internet infrastructure space. We will funnel the energy we are seeing from Silicon Valley in this space and mix in a global perspective for our audience."
The GigaOM Network is also announcing early speaker selections. Confirmed speakers include:

Marc Benioff - Chairman and CEO, Salesforce.com
Werner Vogels - CTO, Amazon.com
Raj Patel - VP of Global Networks, Yahoo!
Michael Stonebraker, Ph.D. - RDBMS pioneer and CTO, Vertica
Michelle Munson - CEO, Aspera
Russ Daniels - VP and CTO, Cloud Services Strategy, Hewlett-Packard
Bryan Doerr - CTO, SAVVIS
Paul Strong - Distinguished Research Scientist, eBay
James Markarian - Chief Technology Officer, Informatica
Allan Leinwand - Venture Partner, Panorama
Jason A. Hoffman - CTO, Joyent
Rohit Sharma- Technologist and Independent Investor
Some of Silicon Valley's best voices are already lined up for Structure 09, and The GigaOM Network welcomes additional speaker proposals from those in the industry with strong insights to offer the audience. If you would like to submit a speaker proposal, please complete this application. The speaker submission deadline is March 31, 2009.
A selection of the topics under consideration this year include:
The Myth of the One-Size-Fits-All Cloud - As enterprises begin to evaluate cloud computing, some are asking if the current model of commodity servers and virtualization meets their needs. Is there money to be made creating specialized clouds for industries that require highly specific computing tasks, from video trans-coding to fiscal transactions and medical records?
The Economics of Infrastructure on Demand - This panel looks at the economic ecosystem of the cloud paradigm and questions who's paying for what, and where the money is made.
SaaS: The Hits and the Challenges - SaaS (Software as a Service) works. Salesforce's bullish success followed by Gmail, Netsuite and many others is testament to that. But there's still a large untapped market. Why is that? This Panel looks at what has worked and why and what is yet to be done to extend the success and deployment of SaaS. Where can SaaS work in your corporation?
The Future of Networks: Smart Grid or Dumb Pipe? - No matter if you're processing data in the cloud or inside your own data center, it needs to get from Point A to Point B if it's going to be of use to anyone. Now that we can access real-time computing thanks to faster processors, startups and established companies are trying to make the network smarter, faster and more secure -- while trying to keep bandwidth from becoming a commodity. Find direction and opportunity in this thought provoking panel moderated by Stacey Higginbotham.
Bringing Private Clouds into Public Light - Enterprises aren't yet ready to trust their data to public clouds, but the lure of usage-based resourcing is strong. Everything from the way corporations license their software to thinking about how to manage compliance must be considered. Build your own cloud or "cloudify" your existing infrastructure as the first steps. This panel will provide learning from actual deployment case studies - illustrating how internal resources can work in unison with external cloud resources across the firewall.
Structure 09 will gather the most innovative and influential industry leaders together to explore the latest Internet infrastructure build-out. It will sort through the emerging and disruptive computing technologies and inform businesses on how best to leverage them. And it will provide insight to investors and executives on the best implementations, ideas and start-ups out there today -- and what to look for tomorrow.
STRUCTURE 09 CHARTER SPONSORS
GigaOM also thanks its charter sponsors -- Peer 1, Accenture, Canaan Partners, Juniper Networks, Hewlett Packard and Automattic. Structure 09 will be a strong marketplace for their products and a productive networking environment. Sponsorships are selling quickly, so if you are interested in joining us, please contact Mike Sly at sly@gigaom.com or by phone at (415) 235-0358.
More information about available sponsorships can be found here.
REGISTRATION NOW OPEN
Tickets are now on sale at an Early Bird rate of $495 with a regular price of $595. The discounted rate is only available until April 3, 2009. Interest is strong and early purchase is advised. Buy your ticket to Structure 09 now.
ABOUT GIGAOM
GigaOM is the premier destination site for technology industry insiders, movers and shakers, and early adopter consumers. It is widely considered the authoritative site for discovering what's new, relevant and interesting in the dynamic world of technology. From exclusive product launches to award-winning analysis and commentary, GigaOM's coverage influences business and technology sectors with its reliable, well-researched and professional reporting -- and its signature intelligence, candor and irreverence.
ABOUT THE GIGAOM NETWORK
The GigaOM Network is a leading provider of publications and events for the technology and entrepreneurial markets worldwide. Founded by award-winning journalist Om Malik, The GigaOM Network is an online publishing company whose network of news sites reaches more than 2 million readers worldwide and provides news and insight on the developments disrupting the world of technology. The GigaOM Network includes seven award-winning sites: GigaOM covers the business of broadband, VoIP, infrastructure, mobile and wireless; WebWorkerDaily covers the future of work in a web world; NewTeeVee covers the business of online video; Earth2Tech covers the business of green technology; OStatic is a web application, news site and community looking at open-source solutions for business; jkOnTheRun offers news and insight on mobile devices; and TheAppleBlog is a leading source of information for Apple users. The GigaOM Network also produces industry-leading events, including annual conferences: Structure, Mobilize, NewTeeVee Live and Green:Net.
Contact:
Surj Patel
VP of Events, The GigaOM Network
Phone (503) 345-3333
###