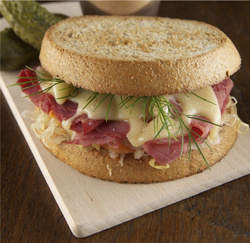 Livermore, CA (Vocus) February 25, 2009
With St. Patrick's Day coming up, its time to toast the luck of the Irish with a new twist on classic fare and a glass of California wine with Irish spirit. Concannon Vineyard's founder, James Concannon, was born on St. Pat's day in 1847 and became the first Irish immigrant to make wine in America. Concannon Vineyard just celebrated its 125th birthday.
In the 1960's Concannon Vineyard introduced America's first varietally labeled Petite Sirah. This pioneering California- Irish family continues to lead in creative wine and food pairings and sustainable practices throughout its vineyard and winery operations.
For St. Patrick's Day revelry, the foremost Irish/American winery, suggests mini-reubens paired with Concannon Petite Sirah. Don't forget a touch of green and plenty of Irish spirit.
To learn more visit http://www.concannonvineyard.com.
Concannon Mini-Reuben with Caraway Slaw, Roasted Garlic Aioli and Irish Cheddar
Prep time 30 min
Serving One
Recommended Wine Pairing: 2005 Concannon Petite Sirah
1 small clove of garlic, peeled
1 tablespoon Concannon Petite Sirah
1/4 teaspoon of olive oil
1 teaspoon water
Dill sprig
4 teaspoons Concannon Petite Sirah
2 tablespoons chicken stock (canned or boxed)
1/8 teaspoon caraway seeds
Pinch salt
1 cup store-bought shredded cabbage (e.g., Fresh Express or Dole cole slaw)
1/4 teaspoon Concannon Petite Sirah
1 tablespoon Roasted Garlic Aioli (recipe below)
1/4 of a whole bay leaf
2 slices cocktail rye bread
4 thin slices of corned beef (deli or homemade)
1/4 teaspoon of sugar
Concannon Roasted Garlic Aioli:
Pre-heat oven to 425F. Place garlic clove in ovenproof container; add 1 tablespoon Concannon Petite Sirah, the olive oil, water. Cover with foil, roast for 20-25 minutes, or until it can be easily pierced. Remove and cool. Mash garlic with any remaining cooking liquid; stir garlic, dill, ¼ tsp wine into aioli. Set aside; reduce oven temperature to 375°F.
Concannon Caraway Slaw:
In a saucepan, place bay leaf, sugar, 4 tsp Concannon Petite Sirah, chicken stock, caraway seeds, salt and cabbage. Toss to coat cabbage. Cover and bring to quick boil, then reduce heat to low, keeping covered until cabbage wilts, about 30 seconds. Uncover, turn up heat to medium and boil away liquids, about 2 minutes. Discard bay leaf.

Assembly:
Spread rye bread with 3/4 tablespoon aioli. Add slaw then place corned beef folded on top. Add one slice Irish Cheddar. Heat sandwich open faced in oven for 5 minutes or until cheddar melts, cover with second slice of rye bread if desired.
For more information or to request wine media samples, please contact Patricia Schneider at 415-717-7595 or patricia9 (at) comcast (dot) net.
If you'd like to discuss American wine and Irish history with America's first Irish-American vintner, Jim Concannon, he will be available on St. Patrick's Day to take calls or emails. To arrange a time, contact Patricia.
###