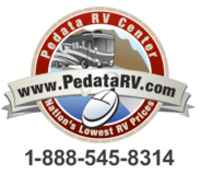 Most of our buyers are that 15%
(Vocus) February 25, 2009
The RV industry has hope that the stimulus package will bolster sales. But do the stipulations knock out key buyers for Class A, B, and C RVs? Clint Ethington of Pedata RV Center says the stimulus package only targets a small part of the RV buying public.
In order to qualify for the sales or excise tax deduction on an RV purchase between now and December 31, 2009, you must individually earn less than $125,000 per year, or jointly earn less than $250,000 per year and the deduction only applies to motorized RV's and not travel trailers or other towable RVs. Plus, you can only deduct the sales tax paid on the first $49,500 of the purchase price which according to Greg Gerber of RV Industry News equates to "…buy a motorhome for $50,000 or $200,000 in a state with an 8 percent sales tax rate and you'll only get to deduct $3,960 off next year's taxes."
Motorized RV's cost anywhere from $35,000 - $100,000 depending on the class: Class A, Class B, or Class C.

Class A RV - comparable to a bus, and can range in size from 21 to 40 feet and cost $50,000 to $500,000, averaging $117,500.
Class B RV - commonly known as the Van camper, offers the lowest average cost at $56,520 which puts its price range at $35,000 to $65,000.
Class C RV - falls in between the Class A and Class B in size at 20 to 28 feet, often has a sleeping bunk over the cab and the price ranges from $45,000 to $75,000; average cost $56,770.
Towable RV's generally offer more affordable options compared to motorized RVs.

Travel Trailers - range from 12 to 35 feet in length, are towed by means of a bumper or frame hitch, and range in price from approximately $9,500 to $65,000 with an average price of $14,500.
Fifth Wheels - are similar to travel trailers but are constructed with a raised forward section that connects to a hitch located in the truck bed. Fifth wheels range from $12,800 to $97,000 with an average cost $23,790.
Popup Campers - Price range: $3,600 to $11,600 (without tow vehicle); average cost $5,230.
If the average national wage is around $40,000, would the average customer be able to afford a new Class A, B or C motorhome? Studies show that 85% of new RV purchases were towable RV's, therefore the stimulus package appears to only be targeted at that 15% of the RV buying market.
"Most of our buyers are that 15%," says Clint Ethington of Pedata RV Center, who sells both motorized and towable RV's but specializes in Class A gas and diesel RVs. "The stimulus doesn't apply to a large percentage of our customer base. What we are seeing is those customers are taking advantage of the lower than average prices that this economic downturn has caused rather than being stimulated by tax incentives."
For More Information:
For more information on Pedata RV Center or current trends in the RV industry contact Clint Ethington, General Manager, at clint (at) pedatarvcenter (dot) com or by phone at: 1-888-545-8314 or 520-807-0900. Or visit Pedata RV Center online at http://www.pedatarv.com.
Contact:
Clint Ethington
Pedata RV Center
http://www.PedataRV.com
1-888-545-8314 or 520-807-0900
clint (at) pedatarvcenter (dot) com
###