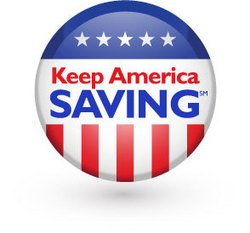 Workers desperately need to understand the gap between their current savings rate and their projected retirement need
Rochester, NY (PRWEB) February 25, 2009
A firm specializing in measuring 401(k) plan effectiveness launched an ambitious "savings" stimulus campaign today, which provides free assistance to businesses that want to help employees make sound long-term financial decisions.
Hailed by private business owners and industry watchers, the Keep America Saving campaign helps businesses educate workers about the importance of saving for retirement - especially during tough economic times.
"Our message to the American workforce is 'have the courage to save even if your 401(k) statement doesn't look promising right now' - and we are backing up the challenge with free assistance to employers," said David Snyder, CEO of Perspective Partners, a firm based in Pittsford, New York. "Workers who are confident about their retirement preparedness can be more focused and productive. Our aim is to help businesses help their people."
Keep America Saving supplies companies with 401(k) plans with two different reports as well as implementation services from Perspective Partners:
Free plan sponsor report. The Participant Outcomes Report analyzes how effectively participants are using the plan to prepare for retirement. Businesses can see how effective their 401(k) is by looking at projections showing what percentage of participants' income needs will be met by the 401(k) and by social security, and if there's a projected shortfall vs. need.
Free participant gap analysis reports. The Retirement Express report is a streamlined, income replacement gap report providing personalized analysis along with specific, actionable steps that participants can take to close gaps and achieve retirement goals.
The campaign addresses "one of the great failings" in the 401(k) industries' effort to educate American workers about retirement, said Rick Meigs, president of 401khelpcenter.com, an Oregon-based nonpartisan group that tracks 401 (k) trends.
"Workers desperately need to understand the gap between their current savings rate and their projected retirement need," Meigs said. "Any effort that provides concrete and actionable guidance on this important issue should be welcome."
Rocky Turner, President and CEO of LPR Construction in Colorado said providing Perspective Partners' gap reports to his employees has had a big impact on motivating his workforce to save for retirement. "The gap reports have been influential and valuable tools for helping employees save at a rate necessary to affect a successful retirement," he said.
To learn more about eligibility and participation, go to http://www.keepamericasaving.com
Perspective Partners, LLC is passionate about the financial security of Americans. Since 2000, Perspective Partners has assisted financial advisors, third-party administrators and plan sponsors to ensure participant success in saving for retirement by producing state of the art gap analysis reports. What makes Perspective Partners' gap reports superior to other gap reports is that they provide a range of personalized, realistic steps that participants can take to achieve their retirement goals.
###