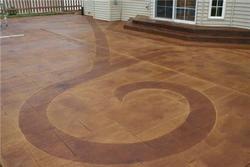 Yucaipa, CA (PRWEB) February 27, 2009
With today's innovations in concrete resurfacing, there is no need to tear out and replace cracked, discolored concrete hardscapes like patios, walkways and driveways. More often then not, these concrete surfaces can be revitalized using outdoor resurfacing techniques. ConcreteNetwork.com highlights these affordable techniques in its updated articles featuring outdoor concrete resurfacing.
Resurfacing can range from simply making the concrete look like new again, or upgrading the surface with a variety of colors and patterns. The articles cover a range of topics including a step-by-step overview of the resurfacing process, to the decorative possibilities through coloring and stamping, to which surfaces are suitable for this technique and much more.
Although cement-based overlays have been around for decades, there have been many improvements along the way. Many of today's systems blend polymer resins with cement, sand, and other additives to improve performance, wear resistance, and aesthetic qualities. Polymer-modified overlays can be applied in layers as thin as a credit card or up to several inches thick to cover surface imperfections.
Whether you want to improve the look of your outdoor pool deck, or cover up cracks in your concrete driveway, resurfacing is a great option for outdoor concrete. Get inspiration from around the country, visit the online outdoor concrete photo gallery for featured concrete projects.
Read more about concrete.
Established in 1999, The Concrete Network's purpose is to educate consumers, builders, and contractors on popular decorative techniques and applications. These include stamped concrete, stained concrete floors, concrete countertops, polished concrete, and much more. Over 10 million people visit ConcreteNetwork.com per year to research, get ideas and to find a contractor.
The site excels at connecting buyers with local contractors in their area through its Find a Concrete Contractor service. The service provides visitors with a list of decorative concrete contractors throughout the U.S. and Canada, and is fully searchable by more than 20 types of decorative concrete work in over 200 regional areas throughout North America.
Photos courtesy of Special Effex.
###