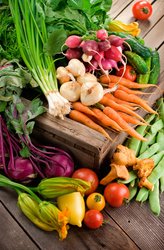 Super spices, comfort food with a twist, and the new age of Asian cuisine are some of the trends we're delivering.
Gaithersburg, MD (Vocus) February 25, 2009
Sodexo, a leading integrated facilities management company and foodservice provider to 600 campuses in the United States and Canada, carefully monitors students' taste buds to satisfy today's well-traveled, celebrity-chef exposed, green-minded coeds.
Sodexo's customer insight experts released a food trends menu for 2009 compared to trends 20 years ago:
Food Trends in 2009
1. Locally-grown fruits and veggies
2. Crispy garlic-ginger chicken wings
3. Mac 'n five cheeses
4. Vietnamese Phß
5. Green tea and pomegranate smoothies
6. Crab cake sliders
7. Mini samosas
8. Tilapia Veracruz
9. Goat cheese salad (with lavendar lentils)
10. Chicken Molé
Food Trends in 1989
1. Fruit and cottage cheese plate
2. Chicken nuggets
3. Turkey Tetrazini
4. Chicken Chop Suey
5. Egg, bacon and cheese English muffin
6. Half sandwich and cup of soup
7. Taco bar
8. Spanish beef and rice
9. Vegetarian bean chili
10. Algerian lamb stew
In culling through 20 years worth of menus in hundreds of cafés served by the company and in keeping step with the latest flavor trends, Sodexo came up with the top ten foods preferred by college students today, and twenty years ago.
"The biggest change we've seen is in the demand for locally-grown produce and authentic international cuisine that is made to order," said Chef Rob Morasco, Sodexo's senior director of culinary support in the education market. "Super spices, comfort food with a twist, and the new age of Asian cuisine are some of the trends we're delivering."
"Parents of college students have cultivated very creative palates in their children by exposing them to many flavors through restaurants, travel, living abroad and creative homecooking," said Tom Post, president of campus dining for Sodexo. "Our expert chefs on campuses love to serve and dazzle customers with this high level of culinary literacy and we stay on top of the trends to deliver authentic, healthy options."
Food trends are studied by Sodexo consistently through a variety of methods. Sodexo will host its fourth Food Trends Expo at Seattle Pacific University on March 13. Over 30 chefs will prepare 65 unique menu items, including those from the Food Trends in 2009 list. Sodexo's Student Board of Directors, a group of 25 students who provide feedback and insight about students' preferences, along with 900 students from Seattle Pacific University will vote with their palates on their favorites. The results will form Sodexo's Fall 2009 dining menus for all 600 campuses it serves. Celebrity chef Mai Pham will lead a cooking demonstration of Vietnamese and Thai creations, along with Sodexo chefs.
The Food Trends in 2009 list was developed by research from Sodexo's Student Board of Directors, Nielsen's Annual Restaurant Audit, Teenage Research Unlimited, Technomics Menu Monitor, NPD Group and other vendor partners.
Sodexo, Inc.
Sodexo, Inc. (http://www.sodexoUSA.com) is a leading integrated facilities management services company in the U.S., Canada, and Mexico, with $7.7 billion (USD) in annual revenue and 120,000 employees. Sodexo serves more than ten million customers daily in corporations, health care, long term care and retirement centers, schools, college campuses, government, and remote sites. Sodexo, Inc., headquartered in Gaithersburg, Md., is a member of Sodexo Group, and funds all administrative costs for the Sodexo Foundation (http://www.sodexofoundation.org), an independent charitable organization that, since its founding in 1999, has made more than $11 million in grants to fight hunger in America.
###