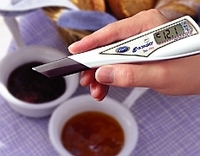 This unit can be dipped directly into the sample, while the digital display eliminates the guesswork of traditional analog refractometers. The end-result is an instrument that encompasses accuracy and ease of use within an innovative new measurement method
Bellevue, WA (PRWEB) February 27, 2009
ATAGO is an innovative industry leader, with refractometers that are world-renowned for their quality and precision. This celebrated company is proud to be the sole manufacturer to offer a groundbreaking, new "Dip-Type" digital refractometer, the PEN-PRO. With its sleek and compact design, the PEN-PRO is perfect for quickly measuring the brix (concentration) of a wide range of liquid samples. This instrument was developed to save precious time, increase ease of use, and offer an alternative measurement method for end-users in every industry.
"The PEN-PRO eliminates the need to transfer the liquid sample from the container to the instrument with a pipette, as the prism is located at the tip of the instrument," according to Frank Young, General Manger of ATAGO U.S.A., Inc. "This unit can be dipped directly into the sample, while the digital display eliminates the guesswork of traditional analog refractometers. The end-result is an instrument that encompasses accuracy and ease of use within an innovative new measurement method," says Young. The PEN-PRO quickly reads and digitally displays brix percentage two seconds after pressing the START key, and was designed to meet the requests from ATAGO customers for a faster, easier measurement method.
The PEN-PRO also features a brand new continuous measurement feature, which allows samples to be consecutively tested with no need to stop and reset the refractometer. With rugged drop-tested craftsmanship and IP65 water-resistant and dust tight ratings, the PEN-PRO is built to last. The refractometer can be rinsed under a running faucet for improved hygienic use (meeting HACCP requirements), and with timesaving Automatic Temperature Compensation (ATC) built in, there is no need for thermometers or temperature conversion charts.
The PEN-PRO is ATAGO's first "Dip-type" Brix refractometer, with the company planning to release models for additional applications in the future. This efficient, user-friendly design offers an abundance of features intended to enhance accuracy and convenience.

Digital LCD display. Easy to read, eliminating user interpretation
Ergonomically designed for easy, one-handed operation.
Fast & Easy measurements. Simply dip the prism head in the sample and press the START key, or press the START key and (within 10 seconds) dip the prism head into the sample.
Continuous Measurement Features allows samples to be tested consecutively.
Automatic Temperature Compensation (ATC). Eliminates the need for a temperature conversion chart.
External Light Interference (ELI) technology allows measurements to be taken with confidence, even under bright lights.
Minimum power consumption. One AAA battery lasts approximately 8,000 measurements.
The PEN-PRO is now readily available from any Authorized ATAGO Distributors.
###