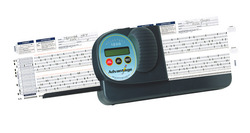 Time spent in the classroom is just the tip of the iceberg for teachers
(Vocus) February 26, 2009
Los Angeles, Calif. - When the No Child Left Behind Act (NCLB) of January 2002 mandated annual assessments for students, no one foresaw the resulting administrative burden that testing would place on the nation's educators. As testing has increased over the years, to help students monitor their academic progress in preparing for the NCLB assessments, the pressure on teachers has continued to increase. Teachers have struggled to balance NCLB requirements and their responsibilities for creating daily lesson plans, preparing for parent conferences, grading homework and teaching a full day.
One Company's Goal: To Give Teachers Back Their Time to Teach
After examining the time challenge teachers face today, one company in the educational field made a commitment to "give teachers back their time to teach," by providing test scoring equipment that would conserve their most important resource--time. As a result of that commitment, Apperson Education Products, a division of Apperson Print Resources, Inc., and a specialist in test scoring solutions, has designed a new generation of test scanners that can score a test in seconds, yet are affordable enough to be made widely available in classrooms throughout the country.
"Time spent in the classroom is just the tip of the iceberg for teachers," says Bill Apperson, CEO of Apperson Education Products, "which is why our products for test scoring and reporting are designed to save teachers time."
While each of the new Apperson scanners has its own unique features, all of them were designed to operate as a stand-alone machine, as they would need to in a classroom environment. All three scanners allow students to insert their own tests into the machines, so teachers don't have to. And all three have simple controls, minimizing the time and effort required to operate them.
Apperson scanners can also provide teachers with on-demand reports of students' test scores. Apperson's DataLink™ software makes this possible by connecting the scanner directly to a school's computer to download test data.
"Our teachers love the DataLink™ software. They can print an item analysis of the test scores within a matter of seconds and review it to determine which subjects need more work," said Melissa Cobian, a librarian at Olive Peirce Middle School of Ramona, CA. Olive Peirce is just one of the 10,000 schools that have adopted the Apperson solution in an effort to reclaim time for their teachers. "Meeting NCLB requirements has increased burdens on teachers and school district administrators enormously," said Apperson. "So, when we receive feedback from teachers on how our test scoring equipment has eliminated hours of tedious grading, it is extremely rewarding."
Apperson Education Products, established in 1992 as a division of Apperson Print Resources, strives to provide today's educators with low-cost, quality-driven productivity tools. For more information, please call 800.827.9219 or visit the Apperson website at http://www.appersonedu.com
###