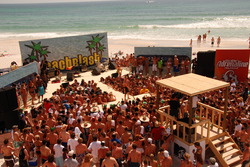 Hollywood Calif. (PRWEB) February 26, 2009
Coke Zero, Absolute Poker, and AVP (Association of Volleyball Professionals) teams with Energy X Productions to present "BeachBlast: Spring Break 2009," in Panama City Beach, Florida from March 8th - 20th, 2009. BeachBlast (the premiere promotional event for students in the US) will once again reign as the "King of the Beach" as it invites college students to partake in entertaining contests, massive product giveaways, and the hottest parties in Panama City Beach!
Celebrating its 11th year in Panama City Beach, BeachBlast will take students on the ultimate spring break adventure, transforming its beachside location (next to the world famous Harpoon Harry's restaurant and bar) into a mini-entertainment village. Absolute Poker, the world's best online home poker application is creating exclusive gaming and tournament cabanas for guests to show off their poker skills as they compete against each other for amazing prizes including: Private VIP Poker Party invites, professional Game tables, Poker Game sets and online VIP Cash. (http://www.absolutepoker.com). The AVP will provide professional volleyball equipment and volleyball courts for in your face smack-down tournaments, and volleyball games (http://www.avp.com). Coke Zero's "Refreshment Zone," will be the coolest place on the beach with a full refreshment bar, pool tables, dart boards interactive games and of course plenty of ice cold Coke Zero to quench beach goers' thirst with their great tasting zero calorie beverages (http://www.cokezero.com). Hula-La Swimwear is providing swimsuits for ladies competing in the "Bella of the Beach," contest (http://www.hulagirlswim.com). MelanSol Skin Care will be on hand with their skin care and sunburn relief station providing students with their revolutionary, all natural, antioxidant sunscreen to help protect their skin from harmful UV rays (http://www.puresunscreen.com).
BeachBlast is the brain child of Kevin "OG" Ogborn, the founder and CEO of Energy X Productions, which produces the event. Kevin created BeachBlast in the spring of 1999. His concept was to create high-energy, branded events and contests that would bridge the gap between corporate brands and their consumers. After 11 years, BeachBlast has become the destination of choice for over 100,000 students visiting Panama City Beach for spring break each year.
"I love BeachBlast, I've been the MC for the events since the beginning and I am always amazed by the sheer number of students who come back year after year to see us. BeachBlast is basically a huge college party that is totally free, we run talent contests, physical challenges, dating games, dance contests, karaoke, body painting contests, bikini contests, oil wrestling, beach Olympics and tons more. The best part is its totally free and the students walk away with tons of swag from our sponsors," says Kevin Ogborn, founder and producer of BeachBlast.
The pride of the BeachBlast event is the massive stage, which is not only the largest on Panama City Beach; it's also the centerpiece and lifeblood of the promotional venue. This year the stage will host the "Escape," fashion show presented by "Runway," international fashion magazine. The BeachBlast main stage is also the hub where all beach side contests and antics are judged along with musical performances, dance contests, games and all sorts of spring break activities. DJ's and celebrity emcees will keep the crowed pumped by spinning today's hottest tunes. Product from over a dozen new and established brands will be given away at cabana's lining the venue.
Energy X Productions has recently created a page on the social networking site Myspace for students to get the latest news on events, activities, and sponsors for Beach Blast 2009. Please visit http://www.myspace.com/beachblastspringbreak and add us to your friends list to receive all updates.
For more information regarding Energy X Productions or if you're interested in sponsorship opportunities please visit http://www.energyxproductions, or contact:
Kevin M. Ogborn
President
Energy X Productions
215.493.8551
kevin (at) energyxproductions (dot) com
All media questions regarding Energy X or BeachBlast should contact:
Terrance Gillum
AB&G Public Relations
323-284-7941
terrancegillum (at) abgpr (dot) com
# # #