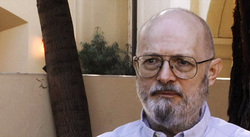 Moore's law provides half of a plausibility argument for why it is reasonable to think that we may get superhuman intelligence
San Francisco, CA (PRWEB) February 26, 2009
Vernor Vinge, computer scientist and science fiction author of such novels as, A Fire Upon the Deep and Rainbows End, says the exponential growth in technology will lead to the creation of superhuman intelligence, leading to the end of the human era.
Vinge coined the meme, 'the Singularity' to describe what could happen when technological capabilities rapidly expand to reach a point beyond which we cannot even speculate about the consequences. It has also come to describe the crossover point when raw microprocessing power surpasses the capabilities of the human brain.
A video interview with Vinge discussing the rapid growth of technology is featured on IdeasProject, a new website developed by Nokia. IdeasProject is an online space that provides a new way to interact with thought leaders and their big ideas about the future of connected communications. For more on Vinge's big idea, visit http://www.ideasproject.com/idea_person.webui?id=1212
"Moore's law provides half of a plausibility argument for why it is reasonable to think that we may get superhuman intelligence," said Vinge. "While Moore's law provides an argument for estimating what sort of computational power is available, there is still the question on whether we can figure out how to put that computational power together in such a way that it produces the type of superhuman I'm referring to."
"No one can dispute technology's rapid evolution over the past 20 years," said Valerie Buckingham, director of technology marketing, Nokia. "The concepts of artificial intelligence and technological singularity inform much of Vinge's writing and speak to the broader concept of technology's growing impact on human connectivity. That's why we're thrilled and honored that Vernor is part of our growing pool of big ideas contributors to the IdeasProject and look forward to featuring more of his thoughts on technology's singularity and its impact on the future of communications."
For the next three months, visitors to ideasproject.com have the opportunity to submit their own Big Idea. Editors will be regularly highlighting their favorite ideas, and sending a Nokia N95 to the Big Thinker who was selected. We'll also be featuring our favorite visitor-contributed Big Ideas along with the ideas of other ideasproject.com contributors.
About Vernor Vinge:
Vernor Steffen Vinge is a retired San Diego State University Professor of Mathematics, computer scientist, and science fiction author. He is best known for his Hugo Award-winning novels 'A Fire Upon the Deep' (1992), 'A Deepness in the Sky' (1999), 'Rainbows End' (2006), 'Fast Times at Fairmont High' (2002) and 'The Cookie Monster' (2004), as well as for his 1993 essay 'The Coming Technological Singularity', in which he argues that exponential growth in technology will reach a point beyond which we cannot even speculate about the consequences.
About IdeasProject:
IdeasProject, a project of Nokia, brings together the most visionary and influential "big thinkers" to contemplate the big ideas that matter most to the future of communications. It is also a new kind of conversation platform aimed at uncovering the connections between these thought leaders and their disruptive ideas. Explore the IdeasProject website, subscribe to its RSS feed, join its Twitter feed (ideasproject), and come back often to learn about great new big ideas as they break.
About Nokia:
Nokia is the world leader in mobility, driving the transformation and growth of the converging Internet and communications industries. We make a wide range of mobile devices with services and software that enable people to experience music, navigation, video, television, imaging, games, business mobility and more. Developing and growing our offering of consumer Internet services, as well as our enterprise solutions and software, is a key area of focus. We also provide equipment, solutions and services for communications networks through Nokia Siemens Networks.
###