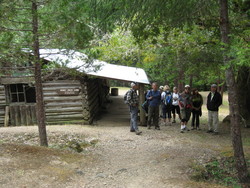 This hiking experience is like no other…and I have hiked all over the world
Galice, Oregon (PRWEB) February 27, 2009
Hiking Oregon's Rogue River trail with http://www.whitewaterwarehouse.com owner and trail guide, Bob Meister, is more than a trek; it is a history lesson. The 43-mile hike lasts for 4 days and 3 nights and winds through some of southern Oregon's richest back country historical and ecological sites.
"The Rogue River-Siskiyou mountain range hike is not only stunningly beautiful but also home to some incredible moments in history. Hikers have a chance to live history by standing on sites where local Indian battles took place, they will discover the ruins of homes where neighbors shot and killed each other over gold mining claims, and even walk through old homesteads where home owners would spend winter months snowed-in waiting for food and rations to arrive by wagons coming over the mountains." says Meister. Even the start of the Rogue River trail is historic. The trail head is named Grave Creek after the grave of Martha Leland Crowley, a daughter of a pioneer couple. Martha was buried under an oak tree near the creek in 1846.
As the 40-plus mile trek continues, the trail often shadows the famous wild and scenic Rogue River. Scientists have described this area as one of the most plant diverse ecosystems in the United States--rivaled only by the Great Smokey Mountains. "This hiking experience is like no other…and I have hiked all over the world," says guide Jim Jackson. "You walk through all the glories of nature on the Rogue-Siskiyou trail. The diverse ecosystems are incredible. Hikers see rocky, dry areas, rain forests that are home to some of the most sensitive plants in the world, eye-popping fields of wildflowers, and fragrant wild azaleas lining the riverbanks. It is just breath-taking."
Best of all, a chain of three rustic fishing lodges conveniently spaced a day's walk apart along the Rogue River makes possible a style of hiking that's the norm in much of the rest of the world but somehow not seen in this country: lodge-to-lodge walking. Each evening, hikers settle into the lodge's quaint cabins and enjoy family-style dinners. Tired travelers can then retire to hot showers and clean linens; only to be awaken the next morning to the smell of freshly brewed coffee and country-sized breakfasts.
The Rogue River-Siskiyou trail hiking season is May through mid-June. The lodges fill quickly, so book the trip as early as possible. White Water Warehouse has been offering these hiking trips for over a decade. The company supplies a trail guide, raft support (so all you have to pack on the trail is your day-pack and water), 3-nights of lodging at three different rustic lodges, riverside lunches, and transportation back to your vehicle at the trip's end. Cost is $880 per hiker for double occupancy. White Water Warehouse: 800-214-0579 or http://www.whitewaterwarehouse.com
Trips begin and end at the Galice Resort in Merlin, Oregon. Follow I-5 until you reach the southern Oregon exit #61. You will follow the Merlin-Galice Road west for another 12 miles until you reach the Galice Resort located on the outskirts of Merlin, Oregon.
###