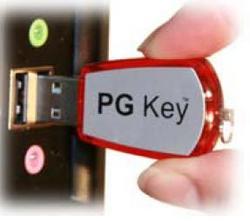 Tucson, AZ (PRWEB) February 27, 2009
The FBI and parenting experts advise parents to be vigilant and involved in their children's daily internet use. PG Key is the first device that offers parents a tangible solution to a frustrating and prevalent problem.
PG Key plugs into any USB port on the computer in use. Similar to a car key, the key must be inserted in order for the child to "drive" onto the internet. When PG Key is in the computer, a combination of content filters, activity recording and alert notifications are enabled for the internet session. These features allow parents to enforce the rules they set for their kids' safe
computer use.
PG Key helps fight tough internet dangers
Kids spend an average of three hours per day on the internet. In this time, they are playing in an online world where parents are often excluded. The problems related to kids using the internet
unsupervised are the subject of grim news stories every day.
There are many methods to block websites and content, but most of these solutions only address a small part of the problem. Such concerns as cyber-bullying, internet predators and inappropriate social networking are difficult or impossible to prevent with filtering products. PG Key's unique recording feature allows parents to playback any internet session. PG Key puts the "parent in the room" even when they can't be there.
Advice of experts used to develop PG Key
The developers of PG Key assembled law enforcement professionals, parenting experts, concerned parents, and even kids themselves to gain a clearer understanding of the technical and parenting challenges faced by today's high-tech families.
This group concluded that parental involvement is the most effective method to keep kids safe online. They agreed that kids simply behave differently when their parents are over their shoulder and can help them recognize online dangers. While the parents interviewed agreed
with this strategy, they repeatedly expressed the need for a simpler and more complete method to create the safe environment being advised. PG key allows parents to simulate the environment that would otherwise require the impracticality of constant supervision.
PG Key available now
PG Key is available from the manufactures website http://www.pgkey.com Requirements and product details can be found on the website. A version for Mac and a similar product for mobile devices are currently in development and due for release soon.
###