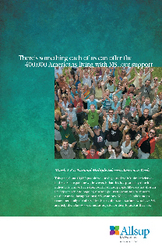 (Vocus) February 27, 2009
Research to benefit patients with multiple sclerosis is gaining traction through a number of medical, scientific and advocacy efforts, according to the National Multiple Sclerosis Society, which is celebrating National MS Awareness Week on March 2-8, 2009. Organizations, including Allsup, a national Social Security Disability Insurance representation company, are helping to raise awareness about the disease, its treatment and efforts to support the MS movement.
Multiple sclerosis is a chronic disease of the central nervous system, and someone is newly diagnosed every hour. A number of activities in 2008 signal improvements and progress for the estimated 400,000 Americans who have the disease.
The National MS Society invested nearly $50 million last year to support more than 440 new and ongoing MS research projects. Currently, more than a dozen therapies that promise improved treatment for the disease are moving forward. Additionally, 130 clinical trials are under way around the world.
This year, the National MS Society is celebrating these accomplishments and the spirit of progress with the theme: Move it to end MS. People across the nation are encouraged to participate in Walk MS and Bike MS events, help advocate and volunteer, and make donations to continue growing the MS movement.
Details on MS walking and biking events can be found at nationalMSsociety.org. Sign up to join hundreds of thousands of people in fundraising activities happening across the country. The MS Society also provides materials and resources to people who are recently diagnosed about handling the diagnosis, communicating with employers, and deciding whether to continue working.
Allsup salutes the National MS Society and other organizations nationwide who are working to advance MS research and treatment for people who are diagnosed with this disease.
Free posters highlighting National MS Awareness Week, March 2-8, are available through Allsup to hospitals, clinics and other community groups by calling Karen Hercules-Doerr at (800) 854-1418, ext. 5770.
Contact:
National MS Society
Arney Rosenblat
(212) 476-0436
Arney.rosenblat(at)nmss.org
http://www.nationalmssociety.org
Allsup
Karen Hercules-Doerr
(800) 854-1418, ext. 5770
k.hercules-doerr(at)allsupinc.com
http://www.allsupcares.com
###