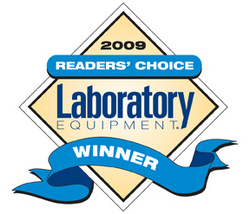 We are honored that our analyzers were selected as finalists and ultimately the Fusion as the winner for the 2009 Readers Choice Award
(Vocus) February 27, 2009
Mason - Tekmar, a Teledyne Technologies Company (NYSE:TDY), is pleased to announce that the Fusion Total Organic Carbon (TOC) UV/Persulfate Analyzer was chosen as the 2009 Readers Choice Award winner for Analytical Instruments. This award, which was developed by Laboratory Equipment Magazine, is awarded to the product that best solves problems within the research laboratory.
All submissions for this award were evaluated by scientists and engineers in research laboratories and judged based on excellence in product design and performance. Teledyne Tekmar's Fusion TOC UV/Persulfate Analyzer was chosen as the winner in the Analytical Instruments category. Tekmar's HT3 Automated Headspace Analyzer was considered and selected as a finalist for this category as well.
"We are honored that our analyzers were selected as finalists and ultimately the Fusion as the winner for the 2009 Readers Choice Award" said Charles Fulmer, General Manager of Teledyne Tekmar. "The recognition is a true compliment to everyone here at Tekmar who continue to work hard to make our company what it is today."
The Fusion is considered to be the next generation in UV/Persulfate TOC analyzers using Non-Dispersive Infrared (NDIR) technology. The Fusion uses pressurized detection, or static read. In this technique, the specific carbon component is oxidized and the resultant carbon dioxide swept into the detector using a non-interfering inert gas metered by a Mass Flow Controller (MFC). A single measurement is made to determine the amount of CO2 inside the detector cell correlating directly to the concentration of the carbon contribution from the sample. Advantages of this technique are:

One measurement versus multiple measurements (integrations) made over time eliminates time delays and integration errors.
With all of the CO2 in the pressurized cell and a single measurement, there is better sensitivity, lower detection limits and increase precision.
Gas flow is metered by MFC allows for direction of gas only when needed and lower gas consumption.
For more information on the Fusion Total Organic Carbon and HT3 Automated Headspace Analyzers, visit http://www.teledynetekmar.com
About Teledyne Tekmar
Teledyne Tekmar is a leader in the design and manufacturing of analytical instrumentation for the laboratory. Tekmar provides productivity-enhancing instrumentation and solutions to a number of industries including Environmental (drinking water and wastewater), Pharmaceutical, Food and Beverage, Forensics and Toxicology, Petrochemical, and Polymers/Plastics.
The company's world-renowned Volatile Organic Compound (VOC) product line includes systems for Gas Chromatography (GC) Sample Introduction, High-Throughput Purge and Trap sample concentration, Static and Dynamic Headspace analysis, Whole Volume Air Sampling and Sample Automation.
Teledyne Tekmar's line of Total Organic Carbon (TOC) and Total Nitrogen (TN) Analyzers provides unparalleled accuracy, precision, throughput and robustness for water samples varying in quality from semiconductor-grade to municipal wastewater. All of the company's pharmaceutical instruments have available 21 CFR Part 11 software tools for compliance needs, as well as validation documentation, services and training.
###