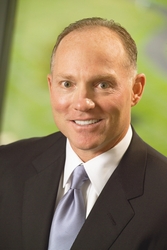 World's Most Influential Headhunters
Lexena, KS (PRWEB) February 28, 2009
Doug Smith, chief executive officer of B. E. Smith, recently was honored for excellence in management recruiting by being named to BusinessWeek's "World's Most Influential Headhunters" list. Smith's detailed BusinessWeek profile may be viewed at the following link: http://www.businessweek.com/managing/content/oct2008/ca20081028_085486.htm
Smith joined the company started by his father, B. E. "Pete" Smith, full-time in 1984. He helped expand the organization, leading him to purchase B. E. Smith in 1996. Smith created a new vision for the company, building it into a large firm offering interim and executive leadership and consulting solutions to healthcare clients around the globe. Under Smith's leadership, B. E. Smith specializes in one-of-a-kind solutions that go beyond executive placement to encompass a comprehensive suite of leadership services designed to meet the specific needs of each client.
In selecting executive leadership candidates for B. E. Smith's healthcare clients, Smith looks for "authentic leaders that are continually developing themselves and the business that they lead," according to his BusinessWeek profile. "They must have the ability to lead with purpose and passion, while driving results. Also, the candidates must be able to build quality relationships at all levels of the organization, and get employees to follow them anywhere, anytime. Finally, the candidates must be good communicators that are strong at active and passive listening and articulate their message very well," Smith said.
Smith holds a master's degree in business administration from Emporia State University and a master's degree in healthcare administration from the University of Kansas. His professional affiliations include the National Association of Health Services Executives and the Center for Healthcare Governance.
About B. E. Smith:
Founded in 1978, B. E. Smith is a full-service leadership solutions firm for healthcare providers. B. E. Smith's comprehensive suite of services includes interim leadership, permanent executive placements and consulting solutions. The company is comprised of veteran healthcare leaders who partner with each client to create a solution that uniquely fits that client's individual needs. In 2008, B. E. Smith placed more than 600 leaders into healthcare organizations worldwide. For more information, visit http://www.besmith.com or call 800-467-9117.
# # #