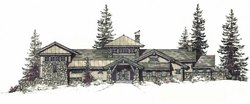 (Vocus) February 27, 2009
McCall, Idaho -- Blackhawk on the River, a conservation-oriented residential community, announced today that is taking its sustainable development philosophy and putting it to work with the construction of their new River Lodge. By incorporating multiple new energy technologies, natural and reclaimed building materials and relying on an indigenous landscaping plan to draw birds and wildlife to the area, Blackhawk's aim is to create a conservation-oriented community center that blends seamlessly into its natural environment.
One of the primary ways Blackhawk has been able to lower the River Lodge's impact on its surroundings is by utilizing new energy resources to power the structure. First, Blackhawk on the River is currently working with a water furnace company in Indiana to design a pond loop exchange system to heat the indoor/outdoor swimming pool, spa and radiant floors throughout the River Lodge.
The pond loop system will draw water from Rock Lake, one of two lakes near the River Lodge site, and pipe that water through over a mile of coiled water lines to the Lodge. As the water is pumped from Rock Lake, it passes through a series of compressors, each raising the water temperature 10 degrees. This process, repeated 13 times has the ability to take the 34 degree water from Rock Lake and increase the temperature to over 130 degrees simply by powering a pump and compressor. As the water cycles through the River Lodge heating systems, it is cooled back down to 34 degrees and cycles back to Rock Lake. Once installed, the pond loop system will allow Blackhawk to heat and cool the River Lodge water over 380 percent more efficiently than traditional electric or propane water heating methods.
Paired with the pond loop system to cut down on traditional energy sources, Blackhawk is also working with IdaCorp, a subsidiary of Idaho Power specializing in renewable energy sources, to install a hydrogen fuel cell as a back-up power source for the River Lodge. Through the catalysis process of separating electrons from protons of a hydrogen atom, the hydrogen fuel cell is able to create approximately 15KW of energy with water as its only by-product.
In addition to using new energy resources, the River Lodge will also feature horse-logged timbers from Northern Idaho forests and reclaimed timbers from a 100 year-old railroad trellis. All of the structural beams were milled from horse-logged forests where beetle-kill and fire make traditional logging dangerous. In addition, Blackhawk was able to purchase all of the material from a 100 year-old railroad trellis that was being disassembled and replaced by the Forest Service. These timbers were cut down to 1-inch planks and used to side the exterior of the structure. A similar process will be used for the wainscot and hardwood floors that will be installed in the coming months.
Finally, to ensure a natural aesthetic, all landscaping at the River Lodge is designed to blend naturally with the indigenous plant life as well as to attract birds and wildlife. Herbs, spices, wildflowers, berry bushes and trees will all be planted with the purpose of attracting such species as hummingbirds, mountain blue birds, tanagers, red wing blackbirds, swallowtails, fox, deer and elk. In addition to landscaping at the base of the Lodge, a green roof has also been built to allow for herbs and spices to provide a natural roofing material while simultaneously providing the caterer's kitchen with plenty of seasoning.
At its completion, the River Lodge will host 10,000 square feet of community amenities including a fitness center and spa, media center, conference rooms, Naturalist Center, recreation equipment rentals, catering kitchen, a heated indoor/outdoor pool with swim-under partition, concierge services as well as a large patio area with barbecue and fire pits.
About Blackhawk
Located in McCall, Idaho, Blackhawk is a conservation oriented 1551-acre residential community established in the 1990's. Set along five pristine miles of Payette River frontage, Blackhawk is designed with environmental stewardship principles as its guiding philosophy. With a thoughtfully designed land plan, the Blackhawk community offers a limited number of home sites situated to protect privacy, view, and wildlife corridors. In addition, almost one third of the community has been designated as protected open space, including a 364-acre wildlife preserve and 13 miles of braided side-channel fish habitat. Built amenities in the current phases of Blackhawk on the River will include a 10,000 square foot community River Lodge with spa facilities, 7.8 miles of hiking and biking trails, 12 kilometers of groomed Nordic ski trails in winter, and McCall's only equestrian center. Discover your private preserve on the river by visiting http://www.blackhawkontheriver.com or by calling 208.630.5070.
###