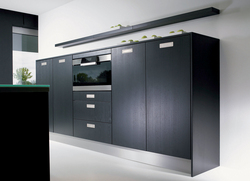 As little as possible -- as much as necessary.
Alpharetta, GA (Vocus) February 27, 2009
"As little as possible -- as much as necessary." This is the principle behind the Touch-in handle from Hettich that gives kitchen and furniture fronts a "handle-less" look. The unconventional handle features a decorative panel that can be provided with a stick-on laminate inlay or lacquered finish to match the design of the cabinet front. Alternatively a decorative panel in polished chrome or brushed stainless steel adds highlights.
The purist look is right on trend in the world of furniture and kitchens. This calls out for the innovative handle element that completely hides convenient practicality behind its simple design. Handle element and door front form an almost flat -- in other words "handle-less" -- surface. By pressing the trim panel, the recessed finger pull can be accessed from any direction, making furniture doors, drawers, pullouts and sliding doors easy and convenient to open. The flexibility provided by the trim panel means it can be made to match or contrast with the furniture front, allowing the handle to be varied in appearance to suit the individual furniture design.
In the 6th International Design Award 2007 (IDA) staged by Hettich and Rehau, the design entered by Pavol Torma from the Technical University of Kosice/Slovakia and adapted by Hettich for practical use came first in the fittings category. The verdict of the international panel of judges: "The handle element demonstrates good functionality because it permits various opening options. It can also take on different forms to match the style of furniture it is used on."
Hettich America L.P. is a leading supplier of quality furniture hardware products and programs which carry innovative features and value added benefits. As part of Hettich International, Hettich America offers its customers the experience of one of the world's largest manufacturers of functional hardware. Hettich is known worldwide for guaranteed reliability, advanced design and exacting standards. For more information on Hettich America, visit http://www.hettichamerica.com or call 1-800-HETTICH.
MEDIA CONTACT:
Flammer Relations, Inc.
770.383.3360
Carol Flammer: carol(at)flammerpr.com
Laura Everett: laura(at)flammerpr.com
http://www.flammerpr.com
###