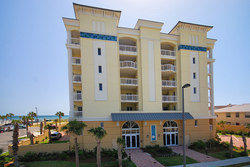 This is the type of discounted ocean view property that Florida real estate buyers should be looking to purchase in today's market
Jacksonville Beach, FL (PRWEB) March 16, 2009
Discounts of nearly 20 percent from original sales prices are now available on newly released bank owned condominiums. Jacksonville Beach Florida real estate developer Cranewoods Development LLC announced the new pricing in tandem with its release of five of the new North Florida ocean view condos in Jacksonville Beach. The recently announced prices are below February 2008 appraised values.
Located near the oceanfront at the northern end of Jacksonville Beach near the Neptune Beach city limit, Serena Point includes just 17 residences in a seven-story, architecturally distinctive community. Residents enjoy direct beach access and ocean views from every window. Serena Point amenities include a fitness center, gracious two-story lobby, garage parking under the building, bike storage room and climate-controlled storage units for each residence.
Through March 2009, six of the bank owned residences have been closed and sold. Seven bank-owned condominiums are currently available.
"It's almost unheard of to find this level of ocean view quality at prices starting in just the $400s."said Cranewoods Realty's Kristin Fanning. "This is the type of discounted ocean view property that Florida real estate buyers should be looking to purchase in today's market."
Located on a barrier island between the Intracoastal Waterway and Atlantic Ocean, the area has nearly 50 miles of coastline that offer some of the best water sport activities in the Southeast. Just west of Jacksonville Beach, the metropolitan city of Jacksonville, a major hub of industry, employment and cultural activities, is an easy commute from Serena Point. With its uncrowded shoreline and year-round outdoor recreation options, Jacksonville Beach and its neighboring oceanfront communities of Neptune Beach, Atlantic Beach and Ponte Vedra Beach are increasingly attracting the attention of homebuyers and investors seeking affordable Florida oceanfront real estate.
About Cranewoods Development
Andrew Howe, president of Cranewoods Development, is an award winning developer, general contractor and real estate consultant with over 35 years experience. Cranewoods offers full service real estate consulting to lenders and investors. Services include: development consulting, bank loan workout solutions, court appointed receiver, turn-key development management, construction management and general project problem solving. To explore Cranewoods further, visit: http://cranewoods.com or follow them on Facebook at http://facebook.com/cranewoodsdevelopment
Jacksonville, FL | Cincinnati, OH.
513-257-0749 | 904-758-3434
# # #