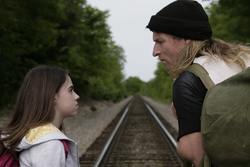 We wanted to make a movie that would entertain and enlighten. We also want to let Hollywood know that the American public will support movies of this type in the hope that they might make more movies that include the elements of love, faith, action and adventure
Louisville, KY (PRWEB) March 2, 2009
Kelly Filmworks is proud to announce the opening of the movie 'Clancy', premiering in Louisville, Kentucky and 12 other cities March 6, 2009, followed by a rolling release nationwide.
Filmed on location in Louisville, 'Clancy' is a heartwarming story that intertwines bits of humor, discovery, friendship, faith, sacrifice and courage in the face of adversity and betrayal. An independent 12-year old girl, full of faith and hope for better things to come, runs away from home fearing child protective services will take her away from her abusive mother. An ill-tempered, homeless Gulf War veteran becomes her unlikely protector and friend. Political ambitions of the local mayor and police chief threaten their futures as they discover how true friendship can change a life forever.
The producers anticipate that the success and support of this movie will send a message to Hollywood that parents want more family friendly movies. "We wanted to make a movie that would entertain and enlighten. We also want to let Hollywood know that the American public will support movies of this type in the hope that they might make more movies that include the elements of love, faith, action and adventure," said Writer/Director Jefferson Moore.
Christina Fougnie, the 12-year old with no prior acting experience who stars in 'Clancy' is now starring in her second feature film, 'The Perfect Gift', which is a retooling of 'Miracle on 34th Street'. The movie, also shot in Louisville, is due out for Christmas, 2009.
About Kelly Filmworks
'Clancy' is the third motion picture produced by the Louisville-based movie company whose previous films include 'The Perfect Stranger' and 'Another Perfect Stranger,' now in television and national DVE distribution. Both were based on the bestselling novels by David Gregory. 'Clancy' marks the first original story produced by the self-proclaimed, 'mom and pop production company.'
On a local movie achieving a theatrical release, Writer/Director Moore says, "There have been several movies produced locally that went straight to DVD, so we think a national rolling release for our film is a big deal."
'Clancy' credits: Jefferson Moore (writer/director), Kelly Worthington (producer), Nick Palladino (Sound Design), BJ Davis (Music), Gary Leo Miller (Director of Photography)
Fore more information, please contact Patti Naiser at 502-244-8300.
###